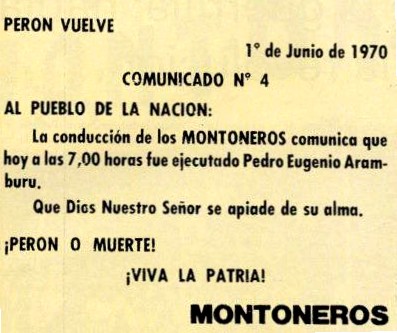 Montoneros 1970
Communiqué no. 4
---
Source: Montoneros, Documentos internos, resoluciones, comunicados y partes de Guerra. Cuadernos de la memoria.;
Translated: for marxists.org by Mitchell Abidor;
CopyLeft: Creative Commons (Attribute & ShareAlike) marxists.org 2008.
---
June 1, 1970
TO THE PEOPLE OF THE NATION:
The leadership of the MONTONEROS communicates that at 7:00 today Pedro Eugenio Aramburu was executed.
May the Lord God have mercy on his soul.
PERON OR DEATH – LONG LIVE THE FATHERLAND
Montoneros
---