Publications Index | Encyclopedia of Trotskyism | Marxists' Internet Archive
---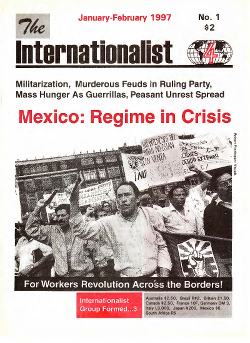 The Internationalist
[New York]
(1997-present)
---
Organ of the Internationalist Group (IG). The IG was formed by longtime leading cadres of the Spartacist League after their expulsion in June 1996. Their initial document From a Drift Toward Abstentionism to Desertion from the Class Struggle (July 1996) is included here and precedes the publication of The Internationalist #1 (January-February 1997). The IG also publishes the youth paper Revolution as well as special issues and supplements of The Internationalist.
Active on the East and West coasts, the IG is the US section of the League for the Fourth International (LFI, formed in 1998) with sections in Brazil (publishes Vanguarda Operária) and Mexico (publishes Revolución Permanente). We plan to include publications of the LFI in Portuguese, Spanish, French and German in the future.
A collection of the IG pamphlets published under their auspices is located here.
For information on the founding of the IG click here [For the IG/LFI web site click here].
---
Special Supplement: March 1998
No. 6, November-December, 1998
Special Supplement: March 2000
Special Supplement: December 2001
No. 14, September-October, 2002
No. 15, January-February, 2002
No. 17, October-November, 2003
No. 20, January-February, 2005
No. 25, January-February, 2007
Special Supplement: October 2007
Special Supplement: January 2008
Special Supplement: November 2008
No. 30, November-December, 2009
No. 32, January-February, 2011
Special Supplement, January, 2012
Special Supplement: 10 February 2013
Special Issue, November-December, 2012
No. 36, January-February, 2014
---
Last updated on 7 November 2014