The Spanish Revolution:
English Language Periodical of the Partido Obrero de Unificación Marxista
---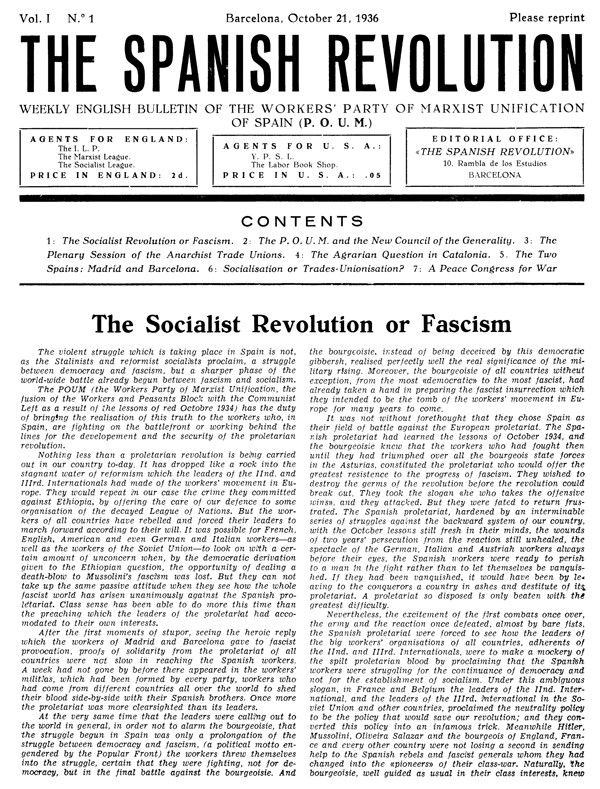 The Spanish Revolution was the English langauge publication of the P.O.U.M. Edited by Lois and Charles Orr. In 1936 they had setup within the ranks of the Socialist Party of America the Revolutionary Policy Committee of the Socialist Party of the U.S.
While the P.O.U.M. itself was never Trotskyist, many in the ranks of Trotskyism, and those near it politically, supported the publication.
Russell Blackwell, who was in Spain as a supporter of the P.O.U.M wrote, 30 years later for the Greenwood Reprints of The Spanish Revolution, the following:
Spanish Revolution faithfully reported events during its period of publication from the point of view of the P.O.U.M. Its first issue appeared on October 21, 1936, at a time when the revolutionary process was already beginning to decline. Its final issues dealt with the historic May Days of 1937 and the events immediately following, which led to the Stalinist takeover.
These 28 issues of The Spanish Revolution were digitized by Marty Goodman of the Riazanov Library Project.
---
Contents
Volume 1, Number 1, October 21, 1936 Volume 1, Number 2, October 28, 1936 Volume 1, Number 3, November 4, 1936 Volume 1, Number 4, November 11, 1936 Volume 1, Number 5, November 18, 1936 Volume 1, Number 6, November 25, 1936 Volume 1, Number 7, December 2, 1936 Volume 1, Number 8, December 9, 1936 Volume 1, Number 9, December 23, 1936 Volume 2, Number 1, January 5, 1936 Volume 2, Number 2, February 3, 1937 Volume 2, Number 3, February 17, 1937 Volume 2, Number 4, March 3, 1937 Volume 2, Number 5, March 17, 1937 Volume 2, Number 6, March 31, 1937 Volume 2, Number 7, April 21, 1937 Volume 2, Number 8, May 19, 1937
---