Colonel Fabijan Trgo
Survey of the People's Liberation War
---
Source: Tito: Selected Military Works, pp. 307-336
Published: Vojnoizdavčki Zavod, Belgrade, 1966
Transciption/HTML Markup: Mike B. for MIA, 2006
Proofread by: Stevan Gostojić
Public Domain: Marxists Internet Archive (2006). You may freely copy, distribute, display and perform this work; as well as make derivative and commercial works. Please credit "Marxists Internet Archive" as your source.
---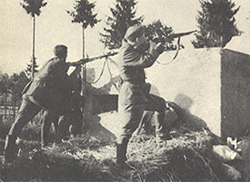 Partisan troops pursue enemy forces
from behind a captured pillbox
---