Vladimir Ilyich Lenin
Remarks On Books
---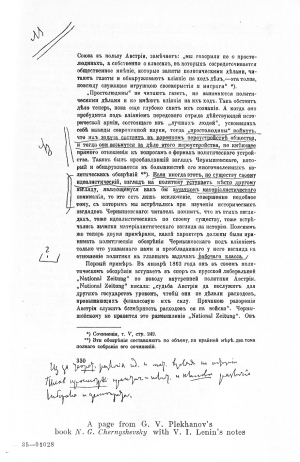 Written: 1908-1911
Source: Lenin's Collected Works, 4th Edition, Moscow, 1976, Volume 38, pp. 401-557
Publisher: Progress Publishers
First Published: 1930-1937
Translated: Clemence Dutt
Edited: Stewart Smith
Transcription & Markup: Kevin Goins (2008)
Public Domain: Lenin Internet Archive (2008). You may freely copy, distribute, display and perform this work; as well as make derivative and commercial works. Please credit "Marxists Internet Archive" as your source.
Note that these documents have undergone special formating to ensure that Lenin's sidenotes fit on the page, marking as best as possible where they were located in the original manuscript.
Unless otherwise noted, text sections underscored and bold denote Lenin's double underscores, and sections underscored, bold and italicized denote his triple underscores. Italics on their own represent the original text.
---
G. V. Plekhanov. Fundamental Questions of Marxism. St. Ptsbrg, 1908
Abel Rey. Modern Philosophy. Paris, 1908 — Part One (pp. 407-440) — Part Two (pp. 440-474)
A. Deborin. Dialectical Materialism
V. Shulyatikov. The Justification of Capitalism in West-European Philosophy. (From Descartes to E. Mach). Moscow, 1908
G. V. Plekhanov. N. G. Chernyshevsky. Shipovnik Publishing House. St. Petersburg, 1910 — Part One (pp. 501-528) — Part Two (pp. 529-557)
---