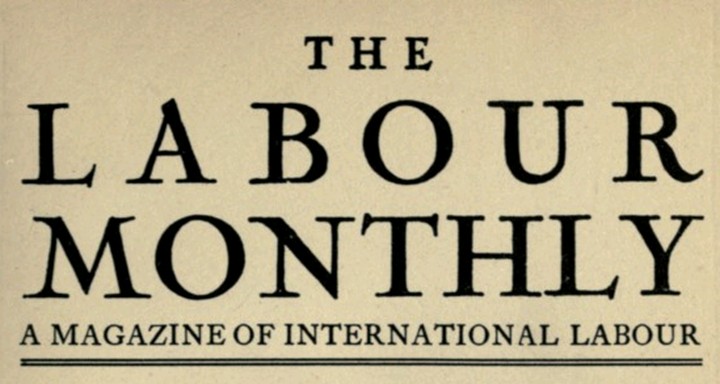 ---
Editor: R. PALME DUTT
Contents By Issue
1940-
---
| | |
| --- | --- |
| |   |
| |   |
| | Vol. 22 January, 1940 Number 1 |
| Page 3 | Notes of the Month  —: |
| | Outlook For 1940 By R.P.D. |
| Page 15 | The truth About Finland By Ivor Montagu |
| Page 29 | Who Pays For The War? By John Eaton |
| Page 41 | The Meaning Of Federal Union By Richard Goodman |
| Page 48 | War Effects In Palestine And The Near East By I. Rennap |
| Page 56 | "Labour Monthly" Readers' Groups |
| Page 57 | Document Of The Month. |
| Page | The Programme Of The People's Government In Finland |
| Page 59 | Book Reviews: |
| | Science In Antiquity By Douglas Garman |
| | The Philistine Within The Gate By R. Page Arnot |
| | |
| --- | --- |
| |   |
| | Vol. 22 February, 1940 Number 2 |
| Page 69 | Notes of the Month  —: |
| | The "Grimmer Phase" By R.P.D |
| 83 | New Fronts For Old By Quaestor |
| 89 | Aspects Of British "War Economy" By Maurice Dobb |
| 99 | The Labour Movement Discusses The War By J. R. Campbell |
| Page 114 | Wages, Prices And Unemployment – A Correction |
| Page 115 | The Finnish Revolution – I By O.W. Kuusinen |
| Page 125 | Document Of The Month |
| Page | Regimentation Of Labour In France |
| Page 126 | "Labour Monthly" Readers' Groups |
| Page 127 | Book Review: |
| | Spanish Strategy By "Strategist" |
| | |
 

Vol. 22 March, 1940 Number 3

Labour Monthly Conference Report:
Page 131
1. The Resolution
Page 137
2. R. Palme Dutt's Opening Speech
Page 141
3. The Credentials Report
Page 142
4. The Confe rence Discussion
Page 150
The Workers' Counter-Offensive By Peter Kerrigan
Page 158
March 18: The Paris Commune
Page 162
War Aims – Lessons Of 1914-18 By R.B. Eastwood
Page 169
Roosevelt Heads For War By George Seldes
Page 173
The Finnish Revolution-2 By O. W. Kuusinen
Page 185
Book Reviews : Czech Freedom – How? By J.L.
More War Aims By Ivor Montagu
Introduction To Philosophy By J.E.
The Civilised Sixth Of The World By Pat Sloan
| | |
| --- | --- |
| |   |
| | Vol. 22 April, 1940 Number 4 |
| Page 195 | Notes of the Month  —: |
| | The Turning Point Of The War By R.P.D. |
| Page 208 | After Six Months – What Now? By Harry Pollitt |
| Page 220 | The U.S.S.R., Turkey And The Allies By Quaestor |
| Page 229 | Before The Labour Party Conference By Allen Hutt |
| Page 236 | Engineers Move Into Action By Arthur Edgar Upton |
| Page 240 | An Outline Of The Second Imperialist War By Mao Tse-Tung |
| Page 249 | Document Of The Month |
| | Indian National Congress Resolution |
| Page 250 | Labour Monthly Readers' Discussion Groups Book |
| Page 251 | Book Review |
| | Philistine Gospel By Allen Hutt |
| | |
| --- | --- |
| |   |
| | Vol. 22 May, 1940 Number 5 |
| Page 259 | Notes of the Month  —: |
| | War Frenzy And Bournemouth By R.P.D. |
| Page 273 | The War Opens Out By Quaestor |
| Page 279 | Bournemouth Inquest By Ivor Montagu |
| Page 288 | France's War On The Workers By F. Ruskin |
| Page 294 | India Before The Storm By Michael Carritt |
| Page 304 | British Students On The Move By George Matthews |
| Page 312 | Fifty Years Of May Day By Dona Torr |
| Page 316 | Documents Of The Month |
| | National Shop Stewards' Conference Resolutions |
| Page 319 | Book Review |
| | Serving With The Colours By Sean O'casey |
 

Vol. 22 June, 1940 Number 6

Page 323
Notes of the Month  —:
Page 335
Where Are We Now? By D.N. Pritt, K.C., M.P.
Page 343
The "Socialism" Of The Second International By H.A. George
Page 350
The Colonial Question And The War By Clemens Dutt
Page 355
"Left" Intellectuals And The War By E.M. Winterton
Page 361
Book Reviews :
A Programme For Prowess By R. Campbell
Where Are You Going? By Harry Pollitt
Tuberculosis And Social Conditions In England By Alan Wade
Mr. Keynes Answered By H.M.
Foundations Of Leninism
| | |
| --- | --- |
| |   |
| | Vol. 22 July, 1940 Number 7 |
| Page 323 | Notes of the Month  —: |
| | The Crisis Of The British People By R.P.D. |
| Page 386 | The Workers In The Total War Economy By J.R. Campbell |
| Page 392 | The Country Of Socialism And The War By Pat Sloan |
| Page 399 | Who Controls The Controllers? By Henry Morgan |
| Page 404 | Federation Without Foundations By D.N. Pritt, K.C., M.P. |
| Page 410 | Document Of The Month |
| | Twentieth Anniversary Of The Communist Party Of Great Britain |
| Page 412 | "Labour Monthly" Readers' Groups |
| Page 413 | Book Reviews : |
| | Engels On Science By George Harvey |
| | Garbled Biography By P.F. |
| | |
| --- | --- |
| |   |
| | Vol. 22 August, 1940 Number 8 |
| Page 419 | Notes of the Month  —: |
| | Twenty Years Of The Communist Party By R.P.D. |
| Page 426 | The Fight For The Communist Party By W. Gallacher, M.P. |
| Page 431 | Twice Two Are A Tallow Candle By R. Page Arnot |
| Page 436 | The Communists And The Labour Movement By H.A. George |
| Page 441 | What The Communist Party Has Meant To Me |
| | 1. By Coun. Jack Davies |
| | 2. By Helen Crawfurd |
| | 3. By Maurice Dobb |
| | 4. By J. R. Scott |
| Page 449 | The U.S.S.R. Makes Sure By Quaestor |
| Page 458 | Women In Unrest, 1914-1918 By Beryl Stanley |
| | |
| --- | --- |
| |   |
| | Vol. 22 September, 1940 Number 9 |
| Page 467 | Notes of the Month  —: |
| | One Year Of War By R.P.D. |
| Page 479 | National Socialism: Labour Party Brand By William Rust |
| Page 485 | Is This A War For Democracy? By E.M. Winterton |
| Page 495 | India To-Day By R. Page Arnot |
| Page 499 | One Year Of War Economy By John Knight |
| Page 505 | Blockading The People's Pantry By Rose Smith |
| Page 511 | Book Review |
| | Science Hugs Its Chains By Clemens Dutt |
| | |
| --- | --- |
| |   |
| | Vol. 22 October, 1940 Number 10 |
| Page 515 | Notes of the Month  —: |
| | Whither The War? By R.P.D. |
| Page 526 | The People's Convention By D.N. Pritt K.C., M.P. |
| Page 530 | Python And Tiger By Quaestor |
| Page 535 | London's People And The Air War By Ted Bramley |
| Page 540 | trade Unions In The Strait Jacket Of War By J.R. Campbell |
| Page 547 | War On The Workers By Henry Morgan |
| Page 551 | Britain's Allies For "Liberating" Europe By Richard Nixon |
| Page 558 | Book Reviews : |
| | England's Revolution By P.F. |
| | Lessons Of History By B. Farrington |
| | |
| --- | --- |
| |   |
| | Vol. 22 November, 1940 Number 11 |
| Page 563 | Notes of the Month  —: |
| | The Soviet Union, War And Peace By R.P.D. |
| Page 573 | Twenty-Three Years By E.M. Winterton |
| Page 578 | The Imperialist Struggle For A New Redivision Of The World By E. Varga |
| Page 589 | The trade Unions: What Now? By Peter Kerrigan |
| Page 596 | India's Agrarian Revolution By Michael Carritt |
| Page 601 | Document Of The Month: |
| | The People's Convention |
| Page 607 | Book Review |
| | Imperialism And Counter Revolution By William Rust |
| | |
| --- | --- |
| |   |
| | Vol. 22 December, 1940 Number 12 |
| Page 611 | Notes of the Month  —: |
| | Outlook For 1941 By R.P.D. |
| Page 618 | The People's Parliament By Harry Pollitt |
| Page 626 | A "New Order" In Europe? By J. Revai |
| Page 635 | The War And British Agriculture By George Matthews |
| Page 643 | The War For The Middle East By I. Rennap |
| Page 651 | The English Revolution 1640 |
| | I. A Reply To P.F. By Douglas Garman |
| | II. A Rejoinder By P.F. |
| Page 655 | Book Review |
| | Following Ramsay Macdonald By Margaret Heston |
| | Index To Vol. Xxii |
---
| | |
| --- | --- |
| |   |
| | Vol. 23 January, 1941 Number 1 |
| Page 2 | A Record Of Progress |
| Page 5 | Notes of the Month  —: |
| Page | The People's Programme By R.P.D. |
| Page 16 | The Alternative To Churchillism By D.N. Pritt, K.C., M.P. |
| Page 21 | A.R.P. And A People's Government By J.B.S. Haldane |
| Page 27 | The Attack On The Workers By Harry Adams |
| Page 31 | Victory For What? By Ivor Montagu |
| Page 39 | Theses On Peace By V.L Lenin |
| Page | Book Reviews |
| Page 44 | A Masterpiece Of Marxism By Quaestor4 |
| Page 45 | Our Socialist Fatherland By Hilda Vernon |
| | |
| --- | --- |
| |   |
| | Vol. 23 February, 1941 Number 2 |
| Page 51 | Notes of the Month  —: The Fight For Democracy By R.P.D. |
| Page 59 | The People's Convention – What Next? By Harry Pollitt |
| Page 66 | The A.E.U. And The Shop Stewards Movement By Wal Hannington |
| Page 70 | The Strategy Of The War By Quaestor |
| Page 75 | The Crisis In India By Michael Carritt |
| Page 83 | Civil Liberty In The Empire By Desmond Buckle |
| Page 87 | The Blockade Of Britain By Peter Field |
| Page 90 | The English Revolution |
| Page 93 | Document Of The Month |
| Page | Resolutions Of The People's Convention, January 12, 1941 |
| Page | I Policy And Programme |
| Page | Ii Organisation And Campaign |
| | |
| --- | --- |
| |   |
| | Vol. 23 March, 1941 Number 3 |
| Page 99 | Notes of the Month  —: |
| | The "New Order" In Britain By R.P.D. |
| Page 115 | Press Freedom In Wartime |
| | A Symposium By W.H. Thompson |
| | George Bernard Shaw |
| | H.G. Wells |
| | Sir Richard Acland, M.P. |
| | Sir Hugh Roberton |
| | Lord Ponsonby |
| | H.W. Nevinson, Hon. Ll.D., D.Litt. |
| | L.C. White |
| | S.O. Davies, Mp. |
| | Dean Of Canterbury |
| | Ronald Kidd |
| | The Future Of The Labour Party |
| Page 126 | I By Councillor J. Lewis And Councillor Mabel Lewis |
| Page 128 | Ii By Councillor J. Craig Walker |
| Page 131 | The Workers And The British Totalitarians By J.R. Campbell |
| Page 140 | The Fraud Of The Cost Of Living Index By Peter Field |
| Page 142 | Engels Masterpiece On Social Evolution By Professor George Thomson |
| Page 143 | Sons Of The Commune By G.A.H. |
| | |
| --- | --- |
| |   |
| | Vol. 23 April, 1941 Number 4 |
| Page 147 | Notes of the Month  —: |
| | The Crisis On The Left By R.P.D. |
| | Tom Mann – A Revolutionary Working Class Fighter |
| Page 169 | I. By W. Gallacher, M.P. |
| Page 171 | Ii. By Ben Tillett |
| Page 172 | The American Scene By Ivor Montagu |
| Page 182 | British Monopoly Capital And The War By Margaret Hudson |
| Page 187 | Socialist Prosperity In The U.S.S.R. By R. Page Arnot |
| Page 190 | The Cut In The Standard Of Living By Peter Field |
| Page 192 | Seven Years Of Work And Wages By G. W. Holloway |
| Page 194 | Ireland And Neutrality By Pat Dooley |
| | |
| --- | --- |
| |   |
| | Vol. 23 May, 1941 Number 5 |
| Page 199 | Notes of the Month  —: |
| | The New Political Situation By R.P.D. |
| Page 213 | The Call Of May Day By William Rust |
| Page 218 | The Soviet Beacon M. Winterton |
| Page 222 | Who Pays For The War ? By R. Page Arnot |
| Page 228 | The Regimentation Of Youth. By Robert Wilding |
| Page 234 | The Pot Called The Kettle Black – A Dialogue By Quaestor And Another |
| Page 237 | They That Take The Sword By The Dean Of Canterbury |
| Page 238 | Connolly Speaks Again By Sean O'casey |
| Page 244 | Discussion Groups Bulletin |
| | |
| --- | --- |
| |   |
| | Vol. 23 June, 1941 Number 6 |
| Page 247 | Notes of the Month  —: |
| | Labour And The New World Situation By R.P.D. |
| Page 259 | Churchill Coalition – And The Alternative By D.N. Pritt |
| Page 263 | India – A Call To The British People By Harry Pollitt |
| Page 266 | Dialectical Materialism And Modern Science By J.B.S. Haldane, F.R.S. |
| Page 269 | Food – What Could Be Done By George Matthews |
| Page 275 | On The "March Into The Ukraine" By Mark Four |
| Page 282 | Camouflaged Statistics By Peter Field |
| | Document Of The Month |
| Page 284 | The Indian trade Union Movement |
| | Book Reviews |
| Page 285 | How To Arrange World Wars: And How To Fight For Peace By E.M. Winterton |
| Page 288 | A Classic Of Lenin By William Rust |
| | |
| --- | --- |
| |   |
| | Vol. 23 July, 1941 Number 7 |
| Page 293 | Prescript |
| Page 296 | Notes of the Month  —: |
| | After 20 Years By R.P.D. |
| Page 301 | Stand By The Soviet Union! By Ivor Montagu |
| Page 305 | Birthday Greetings 5,1& From Bernard Shaw And Others |
| Page 312 | Changes In Capitalism During The War By E. Varga |
| Page 318 | The Scaffolding Of Servitude — |
| | The Meaning Of The Essential Works Orders By J.R. Campbell |
| Page 327 | Dialectical Materialism And Modern Science |
| | The Unity Of Opposites By J. B. S. Haldane, F.R.S. |
| Page 331 | The Labour Conference (Under Tory Patronage) By E.M. Winterton |
| Page 237 | Blood And Tears In The Factories By Peter Field |
| Page 338 | A New Approach To Greek To Drama By R. Farrington |
| | Aeschylus And Athens By George Thomson |
| Page 339 | Over 50 Years Service To Labour By W.J.R. Squance |
| | |
| --- | --- |
| |   |
| | Vol. 23 August, 1941 Number 8 |
| Page 342 | Notes of the Month  —: |
| | The New War Situation By R.P.D. |
| Page 357 | The Front In The West By William Gallacher, |
| Page 360 | Leading The World Against Hitler By Quaestor |
| Page 364 | Freedom's Battle By V. K. Krishna Menon |
| Page 367 | The "Daily Worker" And The National Front By William Rust |
 

Vol. 23 September, 1941 Number 9

Page 373
Notes of the Month  —:
Page 296
The Needs Of The Hour By R.P.D.
Page 383
Mobilise The People By D. N. Pritt, K.C., M.P.
Page 386
War On Two Fronts: The Immediate Issue By "Strategist"
Page 391
How To Increase War Production
1. The Campaign In The Workshops By Jack Owen
2. Organising Production By John Austin
Page 402
Dialectical Materialism & Modern Science By J.B.S. Haldane, F.Rs.
No. 3. – Quantity And Quality
Book Reviews
The Red Army And The Finnish War J.L.
British trade Unionism R.P.D.
| | |
| --- | --- |
| |   |
| | Vol. 23 October, 1941 Number 10 |
| Page 405 | Our Forces Grow By Y. Yaroslavsky |
| Page 407 | Notes of the Month  —: |
| | After Three Months By R.P.D. |
| Page 415 | The Way To Victory. By Harry Pollitt |
| Page 422 | Revolt In Europe By John Knight |
| | How To Increase Production III |
| Page 428 | On Shop Stewards And Production – By Walter Swanson |
| | Dialectical Materialism & Modern Science. |
| Page 430 | Iv. —The Negation Of The Negation By J.B.S. Haldane, F.R.S. |
| | Documents Of The Month |
| Page 433 | Report Of The T.U.C., Etc. |
| | Book Reviews |
| Page 434 | An Anti-Soviet Book By Wm. Rust |
| Page 435 | The Lesson Of France By Clemens Dutt |
| Page 436 | Early Days By Albert Inkpin |
| | |
| --- | --- |
| |   |
| | Vol. 23 November, 1941 Number 11 |
| Page 437 | Notes of the Month  —: |
| | Anniversary In Battle By R.P.D. |
| Page 446 | The Ruby Star By Ivor Montagu |
| | Political Outlook |
| Page 449 | (I) By T.L. Horabin, M.P. |
| Page 452 | (Ii) By S.S. Silverman, M.P. |
| Page 456 | Production – Key To Victory By Allen Hutt |
| Page 460 | Stalin: Leader Of U.S.S.R. By V. Molotov |
| Page 463 | World Scientists Against Fascism By Thales |
| Page 466 | Documents Of The Month |
| | Book Reviews |
| Page 467 | Honesty About The Colour Bar By Leonard Barnes |
| | |
| --- | --- |
| |   |
| | Vol. 23 December, 1941 Number 12 |
| Page 469 | Notes of the Month  —: |
| | The Government And The War By R.P.D. |
| Page 478 | British-Soviet trade Union Unity By J. Bowman |
| Page 481 | Russia, America And Ourselves The War Within America By Ivor Montagu |
| Page 486 | Joint Production Committees By Len Powell |
| Page 492 | How "Leftism" Helps Hitler By J.R. Campbell |
| Page 497 | The Liversidge Case By "Lawyer" |
| Page 498 | A.R.P. To-Day By J.B.S. Haldane, F.R.S. |
| | Document Of The Month |
| Page 499 | Anglo-Soviet trade Unions Committee |
| Page 500 | Book Reviews - No More Than A Quarry |
| | "Those Raw Materials" By By C.A Weigel |
| | "A Short History Of Science" By Charles Singer Reviewed By J.B.S.H. |
| | |
| --- | --- |
| |   |
| | Vol. 24 January, 1942 Number 1 |
| Page 3 | Notes of the Month  —: |
| | World Battle By R.P.D. |
| Page 11 | Anglo-Russian Unity By The Bishop of Chelmsford |
| Page 13 | The Communist Party and the Fight for Unity by Harry Pollitt |
| Page 17 | Japan By Dorothy Woodman |
| Page 21 | Wages and the War Effort By Peter Kerrigan |
| Page 25 | The Twelfth Anniversary of the Daily Worker By William Rust |
| Page 26 | India in the War By V.K. Krishna Menon |
| Page 29 | Burma by Michael Carrit |
| Page 31 | Imperialist War and National War by V.I. Lenin |
| Page 32 | Book Review - A Soviet Play by Sean O'Casey |
| | |
| --- | --- |
| |   |
| | Vol. 25 February, 1942 Number 2 |
| Page 33 | Notes of the Month  —: |
| | This Year Not Next Year By R.P.D. |
| Page 35 | Women and the War Effort By Joan Beauchamp |
| Page 38 | British-Soviet Trade Union Unity by N. Shvernik |
| Page 42 | Japan - Strength and Weakness By R. Page Arnot |
| Page 46 | Strategic Notes on the Far East By Dorothy Woodman |
| Page 49 | Planning and Propaganda By Amabel & Clough Williams-Ellis |
| Page 59 | The German Rear By John Knight |
| Page 61 | Planning for More Food by John Bounty |
| Page 62 | The Sense of History in Soviet Films by Randall Swingler |
| | |
| --- | --- |
| |   |
| | Vol. 25 March, 1942 Number 3 |
| Page 65 | Notes of the Month  —: |
| | Britain's Crisis - The Way Forward By R.P.D. |
| Page 74 | World War Survey By William Rust |
| Page 78 | A Just War by Nikolaeva |
| Page 80 | Anglo-Soviet Trade Union Unity By Will Lawther |
| Page 83 | Mobilize Industry By John Austin |
| Page 87 | Hindrances to the National Effort By L.C. White |
| Page 89 | The Problem of Labor Unity By Alderman Luke Hogan |
| Page 91 | Austrailia's Crisis by Bell Keats |
| Page 95 | Book Review - On the Life of Stalin by William Gallacher, M.P. |
| Page 95 | Correspondence |
| | |
| --- | --- |
| |   |
| | Vol. 26 April, 1942 Number 4 |
| Page 97 | Notes of the Month  —: |
| | The Choice Before Us By R.P.D. |
| Page 105 | India By D.N. Pritt, K.C., M.P. |
| Page 108 | The Problem of Labour Unity by Dan Cater, M.P. |
| Page 110 | Soldier's Pay and Worker's Wages By J.R. Campbell |
| Page 112 | For a Real Ministry of Production By Len Powell |
| Page 113 | The Middle East and the Anti-Hitler Front By I. Rennap |
| Page 117 | The Liquidation of the Small Business Man By L. Morgan |
| Page 119 | A.R.P. and the National Front by R. Peters |
| | Documents of the Month |
| Page 120 |   Stalin's Orders |
| Page 123 |   Summary of the Production Memorandum |
| Page 125 |   Germans Call for Revolt |
| | Book Reviews |
| Page 127 | Mother Bloor's Autobiography by Isabel Brown |
| Page 128 | The Flight From Reality by Prof. George Thomson |
| Page 128 | Production - in Britain and the U.S.S.R. by John Nichols |
| | |
| --- | --- |
| |   |
| | Vol. 24 May, 1942 Number 5 |
| Page 129 | We Hold the Key to Victory by Harry Pollitt |
| Page 135 | Morale for May Day by Ivor Montagu |
| Page 139 | Labour's Crisis and Opportunity by J.R. Campbell |
| Page 143 | The Problem of Labour Unity By P.G. Barstow, M.P. |
| Page 144 | India Threatened By Ben Bradley |
| Page 148 | Fifty Thousand Communists By D.F. Springhall |
| Page 150 | Victory and the German People By W. Gallacher, M.P. |
| Page 154 | Turkey and the U.S.S.R. by Quaestor |
| Page 158 | Jose Diaz by Dolores Ibarruri |
| | Book Reviews |
| Page 160 | Heroes of the Atlantic by D.P.S. |
| Page 160 | Give Us the Tools by Prof. George Thomson |
| | |
| --- | --- |
| | |
| | Vol. 24 June, 1942 Number 6 |
| Page 161 | Editorial |
| | Into Action By R.P.D. |
| Page 164 | The Labour Movement and the War by R. Palme Dutt |
| Page 171 | First Things First by D.N. Pritt, K.C., M.P. |
| Page 175 | The New Stage of the War by William Rust |
| Page 180 | Coal and the Nation's War Effort by A.L. Horner |
| Page 185 | India for Action by V.K. Krishna Menon |
| Page 188 | IThe New Budget by John Knight |
| Page 191 | The Movement for British-Soviet Unity by C.E. Fearn |
| | |
| --- | --- |
| | |
| | Vol. 24 July, 1942 Number 7 |
| Page 193 | Notes of the Month  —: |
| | World Alliance in Action by R.P.D. |
| Page 202 | Anglo-Soviet Treaty by Quaestor |
| Page 206 | The Labour Party Conference by William Gallagher, M.P. |
| Page 208 | The Dark Forces By R. Page Arnot |
| Page 213 | Organizers of Victory by Allen Hutt |
| Page 217 | The Daily Worker by Professor Farrington |
| Page 220 | "Britain in the World Front" By Harry Pollitt |
| | Document of the Month- |
| Page 222 | Text of the Treaty of May 26 |
| Page 223 | Review by Aiwa Raj Anand |
| | |
| --- | --- |
| | |
| | Vol. 24 August, 1942 Number 8 |
| Page 225 | Notes of the Month  —: |
| | The Crisis of the War By R.P.D. |
| Page 233 | Zero Hour - Second Front by Ivor Montagu |
| Page 240 | Firm Will & Work for the Second Front by J.R. Scott |
| Page 244 | Family Allowances by Peter Kerrigan |
| Page 247 | India and Freedom by Clemens Dutt |
| Page 251 | Food and Strategy by "Ploughman" |
| | Reviews |
| Page 254 | Conditions of Peace by Quaestor |
| Page 255 | China the Unconquerable by Ben Bradley |
| Page 256 | A Study of Birmingham by J.K. |
| Page 256 | Publications Received |
| | |
| --- | --- |
| | |
| | Vol. 24 September, 1942 Number 9 |
| | Notes of the Month  —: |
| Page 257 |   The Moscow Conference |
| Page 259 | India - What Must Be Done By R.P.D. |
| Page 269 | Strategy and the Second Front by William Rust |
| Page 274 | T.U.C. by Arthur Horner |
| Page 278 | Situation in the U.S.S.R. by J.H. Potts |
| Page 281 | Labour in the National Front by Emile Burns |
| Page 283 | Progress or Reaction in Education by Mary Epstein |
| Page 288 | Review: Anti-Semitism and the Jewish Question by Ivor Montagu |
| Page 288 | Publications Received |
Vol. 24 October, 1942 Number 10

Page 289
Notes of the Month  —:
The Price of Delay by R.P.D.
Page 295
Deeds, Not Words by Harry Pollitt
Page 301
Situation in the U.S.A. by Bruce Minton
Page 303
Soldier's Pay and the Second Front by Gunner X-Ray
Page 306
India Must Be Freed by Ben Bradley
Page 308
Blackpool T.U.C. and After by J.R. Campbell
Page 313
How the Ban Was Lifted by William Rust
Page 318
Ceux de Valmy, 1792-1942 by Allen Hutt
Page 320
| | |
| --- | --- |
| | |
| | Vol. 24 November, 1942 Number 11 |
| Page 321 | Notes of the Month  —: |
| | Twenty-Five Years by R.P.D. |
| Page 329 | Russia in October-November 1941 by Sir Walter Monckton |
| Page 330 | Soviet Trade Unionism by Will Lawther( Pres Miner's Federation of G.B. |
| Page 331 | We Salute the U.S.S.R. by Lady MacRobert |
| Page 332 | Throwing Away the Moral Offensive by Bernard Shaw |
| Page 334 | Twenty Years of Collaboration by D.N. Pritt, K.C., M.P. |
| Page 337 | The Great Example of a People's Army by Lt.-Col. Hans Kahle |
| Page 338 | A Greeting from Beatrice Webb |
| Page 339 | Nation Freedom in the U.S.S.R. by Mulk Raj Anand |
| Page 341 | The Significance of Soviet Archeology by V. Gordon Childe, D.Litt., D.Sc., F.B.A. |
| Page 344 | Soviet Industry by Hugh P. Vowles, M.I. Mech. I. |
| Page 346 | We Must Fight by John Horner, (Gen. Sec., The Fire Brigades Union) ) |
| Page 347 | Soviet Biology by J.B.S. Haldane, F.R.S. (Member Soviet Academy of Science) |
| Page 349 | U.S.S.R. - Nursery of Genius by Sir Peter Chalmers Mitchell, C.B.E., F.R.S. |
| Page 350 | In the Service of Science by Sir Richard Gregory, Bt, F.R.S. |
| | |
| --- | --- |
| | |
| | Vol. 24 December, 1942 Number 12 |
| Page 357 | Notes of the Month  —: |
| | United Offensive for Victory by R.P.D. |
| Page 363 | Central Strategy by Ivor Montagu |
| Page 369 | Vichy versus the People by Quaestor |
| Page 374 | Stiffen the Sinews by William Rust |
| Page 377 | Indian Deadlock by K.S. Siielvankar |
| Page 379 | The New Christian Socialism by Rev. Amphlett Micklewright |
| Page 381 | Egidio Gennari |
| Page 383 | Mr. H.G. Wells and Communism by the Editor |
| Page 386 | Imperialist War and National War by V.I. Lenin |
| | Book Reviews |
| Page 386 | Indian Light on the Indian Problem by Clemens Dutt |
| Page 387 | Guides to the Far East by Page Arnot |
| Page 388 |   The Law and the War and Shorter Notices by S. Murray |
| | |
| --- | --- |
| | |
| | Vol. 25 JANUARY 1943 NUMBER 1 |
| | Notes of the Month  — War Outlook for 1943 by R.P.D. |
| | The Beveridge Report by WILLIAM GALLAGHER, M.P. 7 |
| | The Struggle of Occupied Europe by QUAESTOR 11 |
| | The French People Will Choose by JEAN BAUDRE 17 |
| | Labour Prospect in 1943 by GEORGE ALLISON 19 |
| | Outlook for 1943 by R.G. GOSLING 22 |
| | A Miner Looks at 1943 by ABE MOFFAT 24 |
| | Anti-Soviet Filth by D. N. PRITT, K.C., M.P. 26 |
| | Book Reviews by IVOR MONTAGU and P.G. BARSTOW, M.P 31 |
| | |
| | |
| --- | --- |
| | |
| | Vol. 25 FEBRUARY 1943 NUMBER 2 |
| | Notes of the Month  — A single Allied Strategy by R.P.D. |
| | The Communist Party and the Labour Party by HARRY POLITT 40 |
| | Education in a Democracy by the late DR. H. G. STEAD 44 |
| | Production Offensive by JOAN AUSTIN 47 |
| | Youth and Politics by MICK BENNETT 51 |
| | Ten Years of Fascist Rule in Germany by ERNST WERNER 55 |
| | Post-War Reconstruction: A Memorandum 59 |
| | Reviews — The East Indies by K.S. SHELVANKAR: The Red Navy by JOHN LEWIS 64 |
| | |
| | |
| --- | --- |
| | |
| | Vol. 25 APRIL 1943 NUMBER 4 |
| | Notes of the Month  — The Crisis of the War by R.P.D. |
| | Hitler's Secret Weapon by IVOR MONTAGU 105 |
| | The French Communist Party in the Battle by FERNAND GRENIER 109 |
| | Common Wealth or Common Danger by D. N; PRITT, K.C., M.P. 112 |
| | The Road to Labour Unity—II. The Evolution of the Labour Party by R. PALME DUTT 115 |
| | Beveridge and Health by D. STARK MURRAY 124 |
| | Book Reviews — The Patriotic War by ALLEN HUTT 127 |
| | Shorter Notices by P.H., P.M. IBBOTSON and J.K. 128 |
| | |
| | |
| --- | --- |
| | |
| | Vol. 25 MAY 1943 NUMBER 5 |
| | The Urgent Call of May Day by WILLIAM GALLACHER, M.P 129 |
| | Internationalism and Unity by WILL LAWTHER 133 |
| | Symposium on Affiliation by PERCY ALLOTT, D.F. SHARMAN, J.P., J. STANLEY, T. SCRAFTON and ERNEST PARKER 136 |
| | Road to Labour Unity—III. Communism and the Labour Movement by R. PALME DUTT 142 |
| | Stirrings in Ireland by WILLIAM RUST 151 |
| | Indian Crisis by BEN BRADLEY 153 |
| | Book Reviews Inside Nazi Germany by HANS KAHLE 158 |
| | Marx-Engels Selections by WILLIAM RUST 159 |
| | Travesty of Jaurès by WILLIAM ZAK 160 |
| | |
| | |
| --- | --- |
| | |
| | Vol. 25 JUNE 1943 NUMBER 6 |
| | Notes of the Month  — New Horizons by R.P.D. |
| | A Final Word on Unity by HARRY POLITT 166 |
| | The Problem of Unity by P.G. BARSTOW, M.P. 171 |
| | Symposium on Affiliation by JOHN HORNER, W. BOYLE, T.W. AGAR 172 |
| | Youth and the Nation by MICK BENNETT 174 |
| | Anti-Semitism by JOHN GOLLAN 177 |
| | First catch your Hare by NORBERT HOLZ 182 |
| | The Need for Amalgamation by WAL HANNINGTON 185 |
| | A Debt to Pay by PETER KERRIGAN 187 |
| | Beatrice Webb by R. PAGE ARNOT 189 |
| | Documents of the Month 190 |
| | Book Reviews, by B. FARRINGTON and R.P. 192 |
| | |
| | |
| --- | --- |
| | |
| | Vol. 25 JULY 1943 NUMBER 7 |
| | Notes of the Month  — Next Steps to Unity by R.P.D. |
| | The Turn in the War by WILLIAM RUST 200 |
| | The Labour Conference by J.R. CAMPBELL 205 |
| | Hot Springs by GILES NORFOLK 209 |
| | Production Problems Today by J.R. SCOTT 215 |
| | Women in Industry by PEGGY SHACKLETON 218 |
| | Document of the Month 221 |
| | Book Reviews Ehrenburg's Brilliant Tale by THE DEAN OF CANTERBURY 222 |
| | |
| | |
| --- | --- |
| | |
| | Vol. 25 AUGUST 1943 NUMBER 8 |
| | Notes of the Month  — The Communist Congress by R.P.D. |
| | Sicily and the Second Front by IVOR MONTAGU 233 |
| | Service Pensions by WILLIAM GALLAGHER, M.P. 236 |
| | Can they Quench Volcanoes? by QUAESTOR. 239 |
| | Housing—in War and Peace by J.R. CAMPBELL 243 |
| | Trades Union Congress by PETER KERRIGAN 247 |
| | The Kayyur Heroes by P.C. Joshi 250 |
| | Engels on Guerilla Warfare 253 |
| | Book Reviews by BRIAN BOROUGH and FRANK VERULAM 255 |
| | |
| | |
| --- | --- |
| | |
| | Vol. 25 SEPTEMBER 1943 NUMBER 9 |
| | Notes of the Month  — The Tocsin of Europe by R.P.D. |
| | The Decisive Phase by QUAESTOR 267 |
| | Italian Fascism on the Scrapheap by CLEMENS DUTT 271 |
| | The French Liberation Committee by FRANK PITCAIRN 276 |
| | The County of London Plan by TED BRAMLEY 278 |
| | For Educational Advance by G.C.T. GILES, B.A. 282 |
| | Hegel's Philosophy of Right by ROY and FANIA PASCAL 285 |
| | |
| | |
| --- | --- |
| | |
| | Vol. 25 OCTOBER 1943 NUMBER 10 |
| | Notes of the Month  — Two Strategies by R.P.D. |
| | Non-Intervention by WILLIAM RUST 297 |
| | T.U.C. by ARTHUR HORNER 301 |
| | From the First to the Second World War by VLADIMIR POTEMKIN 306 |
| | Italy by G. Giori 310 |
| | Bring in the Technicians by WILLIAM BOYLE 313 |
| | Famine in India by V.K. KRISHNA MENON 316 |
| | Australian Labour Victory by BELL KEATS 318 |
| | Publications Received 320 |
| | |
| | |
| --- | --- |
| | |
| | Vol. 25 NOVEMBER 1943 NUMBER 11 |
| | Notes of the Month  — Twenty-six Years by R.P.D. |
| | U.S.S.R. and Britain by D.N. PRITT, K.C., M.P. 330 |
| | Three-Power Conference by QUAESTOR 335 |
| | Disquiet on the Home Front by J.R. CAMPBELL 342 |
| | Industry and Employment after the War by M.H. Dobb 345 |
| | The Families of the Kayyur Heroes by N.M. Joshi (General Secretary, India Trades Union Congress) 350 |
| | Book Reviews — The Future of Germany by G. R. SANDISON 351 |
| | China Advancing by E.S. 351 |
| | |
| | |
| --- | --- |
| | |
| | Vol. 25 DECEMBER 1943 NUMBER 12 |
| | Notes of the Month  — Death to Fascism by R.P.D. |
| | The Moscow Conference by QUAESTOR 362 |
| | Currency Plans by D. RICHARDS 367 |
| | China To-day by ARTHUR CLEGG 372 |
| | Changes in Local Government by N. BRANSON 376 |
| | Document of the Month—The Moscow Conference 381 |
| | Book Reviews — Labour Conditions in U.S.A. by R.P.A. 384 |
| | Bomb Phantasy by H.K. 384 |
| | ******************** |
| | ******************** |
| | |
| | |
| --- | --- |
| | |
| | Vol. 26 JANUARY 1944 NUMBER 1 |
| | Notes of the Month  — Outlook for 1944 by R.P.D. |
| | From Quebec to Teheran by WILLIAM RUST 10 |
| | Mosley and Morrison by WILLIAM GALLACHER, M.P. 14 |
| | Tito and Mihailovitch: Fact and Myth by IVOR MONTAGU 16 |
| | British and Soviet Miners by WILL LAWTHER 21 |
| | The Middle East—Teheran, Lebanon and the Future by I. RENNAP 23 |
| | The Reparation Problem by a FREE GERMAN 28 |
| | Document of the Month — The Teheran Conference 30 |
| | Book Reviews — Food Policy by GEORGE MATTHEWS 30 |
| | India's Famine by TARA BASU 32 |
| | |
| | |
| --- | --- |
| | |
| | Vol. 26 FEBRUARY 1944 NUMBER 2 |
| | Notes of the Month  — Preparing the Offensive by R.P.D. |
| | Teheran Follow-up by IVOR MONTAGU 41 |
| | The U.S.A. and Teheran by FRANK PITCAIRN 44 |
| | The War Worker and the Second Front by J.R. CAMPBELL 46 |
| | Corsica and the Liberation of France by CLEMENS DUTT 49 |
| | American Trade Union Unity 53 |
| | Agriculture in 1944 by JACK DUNMAN 57 |
| | Students and the War by VAL WALKER 60 |
| | Book Reviews — The Colonies by G.P. 63 |
| | Racial Theory Exposed by BEN BRADLEY 64 |
| | Shorter Notices by J.H.H. 61 |
| | |
| | |
| --- | --- |
| | |
| | Vol. 26 MARCH 1944 NUMBER 3 |
| | Notes of the Month  — Future of British Politics by R.P.D. |
| | Czechoslovakia and Europe: Speech by Dr. EDVARD BENES (President of Czechoslovakia Republic) 76 |
| | Arms for France by FERNAND GRENIER 81 |
| | Speaker's Conference by E.M. WINTERTON 83 |
| | Constitutional Changes in U.S.S.R. by JAMES Fox 87 |
| | Town Planning by Dr. H.S. PHILLIPS 90 |
| | Conservatives and Industry by MAURICE Dobb 93 |
| | Book Review : Science in the U.S.S.R. by N.N. 96. |
| | |
| | |
| --- | --- |
| | |
| | Vol. 26 APRIL 1944 NUMBER 4 |
| | Notes of the Month  — Politics of Power by R.P.D. |
| | Future of British Politics (i) by ALEXANDER SLOAN, M.P. 106 (ii) by D.N. PRITT, K.C., M.P. 108 (iii) by EVELYN WALKDEN, M.P. 110 |
| | China's Future? by THE DEAN OF CANTERBURY 111 |
| | Miners' Wages 114 |
| | East Prussia by AN EAST PRUSSIAN 119 |
| | Colonial Education by E. PALMER 123 |
| | Book Reviews — Lest We Forget by SIR GEORGE YOUNG, M.V.O. 126 |
| | Soviet Asia by C.P.D. 127 |
| | Collective Agreements in U.S.A. by J.K. 127 |
| | Well-meaning Educationalists by H.H. 127 |
| | Shorter Notices by J.K. and P.A. 128 |
| | |
| | |
| --- | --- |
| | |
| | Vol. 26 MAY 1944 NUMBER 5 |
| | Notes of the Month  — Offensive for Victory by R.P.D. |
| | Future of British Politics— (iv) MRS. CORBETT ASHBY 137 (v) DAVID KIRKWOOD, M.P 138 (vi) JOHN HORNER (General Secretary, The Fire Brigades' Union) 139 |
| | Europe and Teheran by QUAESTOR 141 |
| | Miners' Wages 146 |
| | Fascism in Latin-America by ANN KELLY 151 |
| | The Chukchi Transformed by R. PAGE ARNOT 155 |
| | Controversy on Town Planning by F.J. OSBORN & DR. R.H.S. PHILLIPS 157 |
| | Book Review —Cloud-cuckoo-land by I.M. 160 |
| | |
| | |
| --- | --- |
| | |
| | Vol. 26 JUNE 1944 NUMBER 6 |
| | Notes of the Month  — On the Eve by R.P.D. |
| | Teheran and the Atlantic Charter by IVOR MONTAGU 167 |
| | The Stewards' Place in the Unions by J.R. CAMPBELL 171 |
| | Polish-Soviet Friendship by DR. OSCAR LANGE 174 |
| | Wages and Prices by JOHN AUSTIN 179 |
| | Land Workers' Conference by JACK DUNMAN 182 |
| | The Need for a Mineworkers' Journal by G.W. HOLLOWAY 183 |
| | "China's Destiny" by CHEN PAI-TA 184 |
| | Book Reviews — Back in the old sewer by QUAESTOR 189 |
| | Shot and Shell by R.P.D. 192 Stalingrad Diary by P.A. 192 |
| | |
| | |
| --- | --- |
| | |
| | Vol. 26 JULY 1944 NUMBER 7 |
| | A Call to Action by William Gallacher, M.P. 193 |
| | Notes of the Month  — The Great Offensive by R.P.D. 194 |
| | The Second Front by WILLIAM RUST 199 |
| | Algiers and the Liberation of France by CLEMENS DUTT 204 |
| | Full Employment by J.R. CAMPBELL 209 |
| | The Co-operative Century by T. VERNON 214 |
| | The Swing to the Left by E.M. WINTERTON 219 |
| | Book Review —Professorial Jungle-Worshipper by R.P.D. 223 |
| | |
| | |
| --- | --- |
| | |
| | Vol. 26 AUGUST 1944 NUMBER 8 |
| | Notes of the Month  — New Perspectives by R.P.D. |
| | Teheran in Deeds by HARRY POLLITT 232 |
| | The U.S. Presidency by IVOR MONTAGU 239 |
| | Government Post-War Policy by JOHN GOLLAN 243 |
| | Democracy in Latin America by ANN KELLY 249 |
| | Book Reviews Co-operatives—and the Future by R.G. GOSLING 254 |
| | Fascist Economy by J.L. 255 |
| | |
| | |
| --- | --- |
| | |
| | Vol. 26 SEPTEMBER 1944 NUMBER 9 |
| | Notes of the Month  —Foundations of the Future by R.P.D. 257 |
| | The Crisis in Germany by a GERMAN ANTI-FASCIST 264 |
| | "Britain for the People" by G.D.H. COLE 268 |
| | Danger Signals in Indian Economy by S.A. DANGE 269 |
| | The Liberation of Poland by QUAESTOR 273 |
| | Communism and Italian Unity by PALMIRO TOGLIATTI 276 |
| | China's Destiny by CHEN PAI-TA 278 |
| | Book Reviews |
| | Debate on Africa by LEONARD BARNES 285 |
| | Planning for India by R.P.D 286 |
| | Correspondence 287 |
| | |
| | |
| --- | --- |
| | |
| | Vol. 26 OCTOBER 1944 NUMBER 10 |
| | Notes of the Month  —Political Prospects by R.P.D. 289 |
| | Dumbarton Oaks by QUAESTOR 299 |
| | Southport to Blackpool by GEORGE ALLISON 305 |
| | Why Versailles Failed by B. STEIN 309 |
| | Indian Trade Unions 313 |
| | Socialist-Communist Unity in Italy by PIETRO NENNI 3l4. |
| | "How to Win the Peace" by WILLIAM RUST 315 |
| | Book Reviews — Searchlight on India by R.P.D. 317 |
| | G.B.S. Boiled Down by R.P.A. 319 |
| | |
| | |
| --- | --- |
| | |
| | Vol. 26 NOVEMBER 1944 NUMBER 11 |
| | Notes of the Month  —Victorious Anniversary by R.P.D. 321 |
| | Twenty-seven Years by WILLIAM GALLACHER, M.P. 330 |
| | War Criminals by D.N. Pritt, K.C., M.P. 332 |
| | The War Against Japan by WILLIAM RUST 339 The Trades Union Congress and the New Britain by J.R. CAMPBELL 342 |
| | Welsh National Rights by C. LLOYD HUMPHREYS 346 |
| | Book Reviews — The Tribe of Ambassadors by R.P.A. 351 Shorter Notice 352 |
| | |
| | |
| --- | --- |
| | |
| | Vol. 26 DECEMBER 1944 NUMBER 12 |
| | Notes of the Month  —Next Year's Elections by R.P.D. 353 |
| | The Lair of the Beast by IVOR MONTAGU 361 |
| | The Labour Party Conference by P.G. BARSTOW, M.P. 365 |
| | French Political Situation by CLEMENS DUTT 367 |
| | The Communist Congress by E.M. WINTERTON 372 |
| | Wages and Exports by MARGOT HEINEMANN 375 |
| | Full Employment by EMILE BURNS 381 |
| | Book Reviews — Gerrard Winstanley by DONA TORR 383 |
| | Tennessee Valley by J. GOLLAN 384 |
| | |
| | |
| --- | --- |
| | |
| | Vol. 27 JANUARY 1945 NUMBER 1 |
| | Notes of the Month  — Year of Victory and Liberation by R.P.D. |
| | Prospects for 1945—Symposium EARL BROWDER (by cable from U.S.A.) 9 |
| | DR. DRAGO MARUSIC (Deputy Premier, Yugoslav Government) 9 |
| | COLONEL RODRIGO GIL 12 |
| | GUSTAV BEUER (Former Member of the Czechoslovak Parliament) 13 |
| | S.A. DANGE (President of the All-Indian Trades Union Congress) 15 |
| | WILL LAWTHER (President, Miners Federation of Great Britain) 17 |
| | R. COPPOCK (General Secretary, National Federation of Building Trade Operatives) 18 |
| | ALFRED W. BURROWS (Organising Secretary, National Union of Distributive and Allied Workers) 20 |
| | HARRY ADAMS (President, Amalgamated Union of Building Trade Workers) 20 |
| | Lessons of the Labour Conference by HARRY POLLITT 22 |
| | Greek Fire by IVOR MONTAGU 28 |
| | |
| | |
| --- | --- |
| | |
| | Vol. 27 FEBRUARY 1945 NUMBER 2 |
| | Notes of the Month  —: Tehran—Act II by R.P.D. 33 |
| | The World Trade Union Conference by ARTHUR HORNER 41 |
| | Anglo-American Economic Conflict by J.R. CAMPBELL 47 |
| | The French Political Situation in 1945 by CLEMENS DUTT 51 |
| | Equal Pay by L.C. WHITE 55 |
| | Mr. Brailsford, Devil's Advocate by ILYA EHRENBURG 58 |
| | Document of the Month—C.I.O. Convention Resolution 61 |
| | Book Reviews — The Liberation of Burma by M.C. 62 |
| | Onslaught on Tories by WM. GALLACHER, M.P. 62 |
| | Darkest Hungary by E.S. 63 |
| | India's Food and Population by MICHAEL CARRITT 63 |
| | |
| | |
| --- | --- |
| | |
| | Vol. 27 MARCH 1945 NUMBER 3 |
| | Notes of the Month  — Crimea Covenant by R.P.D 65 |
| | The World Trade Union Conference (i) B. FRACHON, General Secretary of the C.G.T. 73 |
| | (ii) ERNEST THORNTON, Chairman of Australian Delegation 74 |
| | (iii) S.A. DANGE, Chairman, All-India Trades Union Congress 75 |
| | (iv) WILL LAWTHER, President, National Union of Mineworkers 76 |
| | Reparations by MAURICE DOBB 78 |
| | Crimea and the Liberation of Europe by QUAESTOR 82 |
| | The Bulgarian Trials by MICHAEL PADEV 85 |
| | Housing in Sheffield by COUNCILLOR HOWARD HILL 87 |
| | The Soldiers' Vote by GROUND STAFF 90 |
| | Document of the Month—The Crimea Conference 92 |
| | Book Reviews — Shot and Shell—without Strategy by R.P.D. 96 |
| | Shorter Notice 96 |
| | |
| | |
| --- | --- |
| | |
| | Vol. 27 APRIL 1945 NUMBER 4 |
| | Notes of the Month  — Election Prospects by R.P.D 97 |
| | The Crimea Conference (i) THE EARL OF LYTTON, K.G. 106 |
| | (ii) THE BISHOP OF MONMOUTH 106 |
| | (iii) THE VISCOUNT CASTLEREAGH, M.P. 107 |
| | (iv) DR. HADEN GUEST, M.P. 108 |
| | (v) THE VISCOUNT HINCHINGBROOKE, M.P. 109 |
| | (vi) SIR GEOFFREY MANDER, M.P. 110 |
| | (vii) QUINTIN HOGG, M.P. 111 |
| | (viii) HAMILTON KERR, M.P. 112 |
| | (ix) J.D. MACK, M.P. 113 |
| | (x) MALCOLM MACMILLAN, M.P. 114 |
| | (xi) LIEUT.-COL. SIR THOMAS MOORE, C.B.E., M.P. 115 |
| | (xii) LIEUT.-COL. SIR GEORGE SCHUSTER, K.C.S.I., M.P. 116 |
| | (xiii) ALEXANDER SLOAN, M.P. 117 |
| | (xiv) D.N. PRITT, K.C., M.P. 118 |
| | Who is to Plan our Post-war Industries? by MARGOT HEINEMANN 119 |
| | A Little Spring-cleaning by QUAESTOR 123 |
| | Brailsford Replies to Ehrenburg 126 |
| | Book Review —Shorter Notice by R.P.A. 128 |
| | |
| | |
| --- | --- |
| | |
| | Vol. 27 MAY 1945 NUMBER 5 |
| | Notes of the Month  — May Day by R.P.D 129 |
| | San Francisco by QUAESTOR 138 |
| | Labour on the Eve by J.R. CAMPBELL 143 |
| | Accomplices of Hitler by DR. ECER, Czechoslovak Representative on the |
| | War Crimes Commission 146 |
| | Ireland by W.H. MCCULLOUGH 150 |
| | Africa in the Post-War World—a Manifesto 154 |
| | Book Reviews — A Text-book on Money by M.H. DOBB 156 |
| | Scotland by WM. GALLACHER, M.P. 158 |
| | Co-operative Evangelist-Critic by R.G. GOSLING 158 |
| | Marxism a Guide to Action by T.A. JACKSON 160 |
| | Shorter Notice by P.A 160 |
| | |
| | |
| --- | --- |
| | |
| | Vol. 27 JUNE 1945 NUMBER 6 |
| | ALL OUT FOR JULY 5 by R.P.D 161 |
| | Notes of the Month  — Victory—and After by R.P.D 163 |
| | Tory Election Tricks by IVOR MONTAGU 169 |
| | Light on the Chinese Puzzle by I. EPSTEIN 173 |
| | Mines Nationalisation in France by CLEMENS DUTT 178 |
| | India and the British Election by S.A. DANGE 181 |
| | Rumania's Road to Democracy by C.D. LOVRIN 184 |
| | Torture in Argentina by JOHN W. WHITE 187 |
| | Book Review— How slavery killed Greek science by J.B.S. HALDANE 190 |
| | Soviet Foreign Policy by VIATOR 191 |
| | Independent Austria by O.A. Shorter Notice 192 |
| | |
| | |
| --- | --- |
| | |
| | Vol. 27 JULY 1945 NUMBER 7 |
| | Rouse the Masses by WILLIAM GALLACHER M.P. 193 |
| | Notes of the Month  — Britain's Choice by R.P.D 194 |
| | The Communist Party and the Election by HARRY POLL ITT 197 |
| | The Mean Street by WILLIAM RUST 202 |
| | Finding the Money by J.R. CAMPBELL 205 |
| | Women and the Elections by GLADYS DRIVER 208 |
| | Demands of the Forces by CAPTAIN W. ALEXANDER 210 |
| | Tory Foreign Policy by R. PAGE ARNOT 213 |
| | The China Policy of Churchill—and Others by ARTHUR CLEGG 217 |
| | The Mare's Nest on Bornholm by OMEGA 218 |
| | Document of the Month—Communist Election Policy 220 |
| | Book Review — Communist Policy on Agriculture by MAURICE CORNFORTH 223 |
| | |
| | |
| --- | --- |
| | |
| | Vol. 27 AUGUST 1945 NUMBER 8 |
| | Notes of the Month  — Britain Moves Left by R.P.D 194 |
| | The Election Campaign by IVOR MONTAGU 231 |
| | Britain and Greece by N. ZACHARIADES 234 |
| | Engels by J.B.S. HALDANE, F.R.S. 235 |
| | Twenty-five Year of the Communist Party by R. PAGE ARNOT 236 |
| | On the Dissolution of the Communist Party of the United States by JACQUES DUCLOS 239 |
| | Postscript—Resolution of C.P.A. of U.S.A. 250 |
| | Messages from India, Burma, Ceylon 252 |
| | Book Reviews — Indian Problems by MICHAEL CARRITT 256 |
| | U.S.S.R. Geography by Q 256 |
| | |
| | |
| --- | --- |
| | |
| | Vol. 27 SEPTEMBER 1945 NUMBER 9 |
| | Notes of the Month  — From War to Peace by R.P.D 257 |
| | The Labour Triumph of 1945 by JOSEPH REEVES, M.P. 268 |
| | Municipal Election Prospects—in Birmingham by FRED LONGDEN, M.P. 270 |
| | Nuclear Energy and the Future 272 |
| | The T.U.C. and the Government by J.R. CAMPBELL 274 |
| | Whither Toryism? by R. PAGE ARNOT 278 |
| | Document of the Month—The Tripartite Conference of Berlin 280 |
| | Book Reviews — A Marxist Looks at the Civil Service by L.W. 287 |
| | The Rebirth of France by CLEMENS DUTT 288 |
| | |
| | |
| --- | --- |
| | |
| | Vol. 27 OCTOBER 1945 NUMBER 10 |
| | Notes of the Month  — Problems of Peace by R.P.D 289 |
| | Coal Situation in Great Britain by ARTHUR HORNER 293 |
| | Economic Situation and Labour Policy by MAURICE DOBB 299 |
| | Western Bloc by WILLIAM RUST 304 |
| | France and Europe by CLEMENS DUTT 308 |
| | Problems of Labour Unity in Norway by GEORGE RUDE 310 |
| | Dawn over East Asia by ARTHUR CLEGG 314 |
| | Book Reviews — Patrick Geddes by H.S.P. 319 |
| | Shorter Notice by M.C. 320 |
| | |
| | |
| --- | --- |
| | |
| | Vol. 27 NOVEMBER 1945 NUMBER 11 |
| | Notes of the Month  — Whither Britain by R.P.D 321 |
| | The 28th Anniversary by THE DEAN OF CANTERBURY 330 |
| | What is Democracy? by WM. GALLACHER, M.P. 331 |
| | A Constituent Assembly for India by MICHAEL CARRITT 347 |
| | The British Universities by Professor Roy PASCAL 345 |
| | Germany by PETER FIELD 349 |
| | |
| | |
| --- | --- |
| | |
| | Vol. 27 DECEMBER 1945 NUMBER 12 |
| | Notes of the Month  — Crisis of British Foreign Policy by R.P.D 353 |
| | The Indonesian War of Independence by ARTHUR CLEGG 360 |
| | Cotton Working Party by MARGOT HEINEMANN 364 |
| | Meaning of Docks Dispute by NORAH BROWN 368 |
| | Course of the Industrial Cycle after the War by E. VARGA 372 |
| | Western Europe Ltd. by QUAESTOR 379 |
| | Document of the Month —World Trade Union Federation 382 |
| | Book Reviews — Fabian Fable by R.P.D. 383 |
| | Electricity in Britain by N.B 384 |
| | |
| | |
| --- | --- |
| | |
| | Vol. 28 JANUARY 1946 NUMBER 1 |
| | Notes of the Month  —Prospects for 1946 by R.P.D. 1 |
| | I. The Moscow Conference II. World and Nation III. Washington Financial Agreements |
| | The Communist Party Congress by HARRY POLLITT 12 |
| | Affiliation by TED BRAMLEY 17 |
| | Why these Strikes? by Jim GARDNER 23 |
| | Palestine by JACK GASTER 27 |
| | Book Reviews — Welcome Revival by R.P.D. 31 |
| | Memory of the Means Test by WAL HANNINGTON 32 |
| | |
| | |
| --- | --- |
| | |
| | Vol. 28 FEBRUARY 1946 NUMBER 2 |
| | Notes of the Month  —Uno and Britain by R.P.D. 33 |
| | Nationalisation of the Coal Industry by ARTHUR L. HORNER 41 |
| | Persia by MAURICE RIDLEY 46 |
| | Foreign Trade Problems by MARGOT HEINEMANN 51 |
| | Syria and Lebanon by NICOLAS SHAWI 56 |
| | Mandalay and After by G. CARRITT 59 |
| | Correspondence |
| | Book Reviews — Discovering Philosophy by M.C 63 |
| | France, then and now by C.P.D. 63 |
| | Remote from Greece by P.S. 64 |
| | |
| | |
| --- | --- |
| | |
| | Vol. 28 MARCH 1946 NUMBER 3 |
| | Notes of the Month  —Ten Points for the Trade Union Conference on Man-Power by R.P.D. 65 |
| | Mr. Bevin and British Foreign Policy by K. ZILLIACUS 71 |
| | Unity, Then and Now by JOHN HORNER 75 |
| | A Square Deal for Women by BERT PAPWORTH 78 |
| | The Investment Bill by J. WINTER 81 |
| | India and Pakistan by R. PALME DUTT 83 |
| | Karl Marx, 1818-1883 94 Book Reviews — Small Beer Chronicles by A.R. 95 |
| | A Pre-War Pole by Q., Cambridge by C.P.D. 96 |
| | Literary Essays by A.C.M.; Shorter Notices 96 |
| | |
| | |
| --- | --- |
| | |
| | Vol. 28 APRIL 1946 NUMBER 4 |
| | Notes of the Month  —No Third World War by R.P.D. 97 |
| | What is Russia After? by QUAESTOR 107 |
| | Science and the Welfare of Mankind by S. LILLEY, M.Sc., Ph.D. 111 |
| | German Workers Unite by J. W1NTERNITZ 115 |
| | The French Political Scene by DEREK KARTUN 119 |
| | For a Democratic B.B.C. by PEGGIE MACIVER 124 |
| | Book Reviews — Coupland's Plan for India by K.S. SHELVANKAR 127 |
| | Another Welcome Revival by R.P.D. 128 |
| | |
| | |
| --- | --- |
| | |
| | Vol. 28 MAY 1946 NUMBER 5 |
| | Notes of the Month  —May Day of Peace by R.P.A. 129 |
| | Persia, Greece and Uno by QUAESTOR 136 |
| | Open Letter to Wm. Gallacher and P. Piratin by K. ZILLIACUS, M.P. 141 |
| | The Engineering Industry by JAMES DAVIDSON 144 |
| | A Nuremberg and You by IVOR MONTAGU 147 |
| | A Malaya Re-occupied by MICHAEL CARRITT 151 |
| | Travel Notes by R. PALME DUTT 155 |
| | Book Reviews — Reading with Tears by I.M 159 |
| | India's Food Problem by A.G. 160 |
| | |
| | |
| --- | --- |
| | |
| | Vol. 28 JUNE 1946 NUMBER 6 |
| | Notes of the Month  —Peace in the Balance by Clemens Dutt 161 |
| | Bogy over Bournemouth by IVOR MONTAGU 167 |
| | Where is that Production Drive? by J.R. CAMPBELL 170 |
| | Lord Keynes by M.D. 175 |
| | Famine by F. Le GROS CLARK, M.A. 178 |
| | Travel Notes No. 2 by R. PALME DUTT 184 |
| | Letter from Dr. SJAHRIR (Prime Minister of the Indonesian Republic) 190 |
| | Book Reviews — The Outlook for Visual Arts by JAMES BOSWELL 191 |
| | World Trade Unionism by A.R. 191 |
| | The Freedom of the Press by H.C. 192 |
| | |
| | |
| --- | --- |
| | |
| | Vol. 28 JULY 1946 NUMBER 7 |
| | Our First Quarter of a Century by THE EDITOR 193 |
| | Notes of the Month  —Then and Now by R Page Arnot 195 |
| | Outlook after Bournemouth by H. POLLITT 201 |
| | The Elections in Europe by WILLIAM RUST 206 |
| | Cotton Working Party by WILLIAM BOLTON 210 |
| | Bombay by R. PALME DUTT 213 |
| | Travel Notes No. 3 by R. PALME DUTT 216 |
| | 25th Anniversary Greetings 221 |
| | Book Reviews — British Restaurants by LEN POWELL 226 |
| | A New "Poetics"? by H.S.D. 226 |
| | Facts on Germany by J.W. 227 |
| | Pollitt on Czechoslovakia by J.W. 227 |
| | Labour M.P.s on Austria by J.W. 227 |
| | |
| | |
| --- | --- |
| | |
| | Vol. 28 AUGUST 1946 NUMBER 8 |
| | Notes of the Month  —Food and Foreign Policy by R. Page Arnot 229 |
| | A Year of Labour Government by WILLIAM GALLACHER, M.P. 235 |
| | The Second Paris Conference by QUAESTOR 239 |
| | Independence for India? by R. PALME BUTT 245 |
| | World Trade Unionism Sets to Work by CLEMENS DUTT 249 |
| | Prospects in the U.S.A. by IVOR MONTAGU 252 |
| | Book Review — The Causes of the German Catastrophe by J. WINTERNITZ 257 |
| | Greetings from U.S.A. 260 |
| | |
| | |
| --- | --- |
| | |
| | Vol. 28 SEPTEMBER 1946 NUMBER 9 |
| | What We Fight for by PETER KERRIGAN 261 |
| | Britain's Economic Balance-Sheet by MARGOT HEINEMANN 266 |
| | The New Jugoslavia by JAMES KLUGMANN 271 |
| | Egypt and the Middle East Crisis by GEORGE AUDIT 276 |
| | France Today by DR. EDGAR LONGUET 280 |
| | Travel Notes No.4 by R. PALME DUTT 282 |
| | A Labour Saint by WILLIAM RUST 288 |
| | Book Review Steel by JOHN AUSTIN 291 |
| | |
| | |
| --- | --- |
| | |
| | Vol. 28 OCTOBER 1946 NUMBER 10 |
| | |
| | Notes of the Month  —New Stirrings by R.P.D. 293 |
| | October T.U.C. by GEORGE ALLISON 304 |
| | The Rift in the Bloc by IVOR MONTAGU 307 |
| | "Not Guilty" by SHEIKH ABDULLA 311 |
| | America's "Large Policy" by ARTHUR CLEGG 315 |
| | Travel Notes No.5 by R. PALME DUTT 319 |
| | |
| | |
| --- | --- |
| | |
| | Vol. 28 NOVEMBER 1946 NUMBER 11 |
| | |
| | Important Announcement by the Editorial Board 325 |
| | Notes of the Month  —The Thirtieth Year by R.P.D. 327 |
| | The Soviet Anniversary by D.N. PRITT, ,K.C., M.P. 333 |
| | Peace-making at Paris by QUAESTOR 335 |
| | Why Housing is Slow by J. RYAN (London District Organiser, Amalga¬mated Union of Building Trade Workers) 340 |
| | "Reconstruction" in Burma by RICHARD AUSTIN 345 |
| | Molotov's Final Speech at Paris (October 14, 1946) 348 |
| | Book Review Nehru's New Book by KRISHEN BEHAR 356 |
| | |
| | |
| --- | --- |
| | |
| | Vol. 28 DECEMBER 1946 NUMBER 12 |
| | |
| | Notes of the Month  — by R.P.D. 359 |
| | After the Brighton T.U.C. by HARRY POLLITT 366 |
| | Elections in France by DEREK KARTUN 372 |
| | Labour, Socialism—and Mr. Morrison by ALEX MASSIE 374 |
| | Mr. Churchill's Record by E.M. WINTERTON 378 |
| | Malaya's "Constitution" by H.B. Lim (Secretary of the Malayan Democratic Union) 380 |
| | Disarmament, V.M. Molotov's Speech 383 |
| | Book Review — Transatlantic Tariffs by F.V. 385 |
| | Primitive Accumulation in New England by A.R. 385 |
| | The New Czechoslovakia by J.W. 386 |
| | Manual for Exploiters by J.D. 386 ******* |
| | |
| | |
| --- | --- |
| | |
| | Vol. 29 JANUARY 1947 NUMBER 1 |
| | Notes of the Month  —The New Battle for Britain by R.P.D. 1 |
| | Europe Today by K. ZILLIACUS, M.P. 9 |
| | Coal and the Miners by A.L. HORNER 14 |
| | Trusteeship and the Colonial Question by LEONARD BARNES 18 |
| | The General Crisis of Capitalism by E. VARGA 23 |
| | Book Reviews .— Dobb as Historian by RODNEY HILTON 29 |
| | Bluff and Bluster by HARRY POLLITT 30 |
| | A Jubilee History by JAMES DAVIDSON 30 |
| | Shorter Notices by P.A., A.C. and M.J.C. 31 |
| | |
| | |
| --- | --- |
| | |
| | Vol. 29 FEBRUARY 1947 NUMBER 2 |
| | Notes of the Month  —Britain and the Empire by R.P.D. 33 |
| | Europe Today (ii) by R.H.S. CROSSMAN, M.P. 44 |
| | The Agricultural Bill by WOGAN PHILIPPS 45 |
| | A Trip to the United States by WILLIAM GALLACHER, M.P. 49 |
| | The General Crisis of Capitalism by E. VARGA 56 |
| | Book Reviews — The Soviet Impact on the Western World by E.H. CARR 62 |
| | Shorter Notices by A.G.P. and R.F. 63-64 |
| | |
| | |
| --- | --- |
| | |
| | Vol. 29 MARCH 1947 NUMBER 3 |
| | Notes of the Month  —Lessons of the Crisis by R.P.D. 65 |
| | Europe Today (iii)— LESLIE J. SOLLEY, M.P. 74 J.P.W. MALLALIEU, M.P. 75 |
| | The Fight for Freedom by IVOR MONTAGU 77 |
| | The Virtuous Spiral by ELINOR. BURNS 82 |
| | The Colonial Question by MICHAEL CARRITT 87 |
| | Document of the Month and Map 91 |
| | Book Reviews — Ireland Her Own by T.A. JACKSON: GEORGE THOMSON 95 |
| | Shorter Notice by H.H. 96 |
| | |
| | |
| --- | --- |
| | |
| | Vol. 29 APRIL 1947 NUMBER 4 |
| | Notes of the Month  —America and Britain by R.P.D. 97 |
| | How to Reorganise the Government by HARRY POLLITT 109 |
| | Europe Today (iv)— LESTER HUTCHINSON, M.P. 113 MRS. E. M. BRADDOCK, M.P. 114 BENN W. LEVY, M.P. 115 |
| | Canada by TIM BUCK 117 |
| | Caucasus Week by J. TODD and D.N. PRITT, K.C., M.P. (with map) 122 |
| | Book Reviews — The New United States by EDGAR EUGENE ROBINSON: I.M. 128 |
| | Marxism and the Democratic Tradition by A. LANDY: C.P. Dutt 128 |
| | |
| | |
| --- | --- |
| | |
| | Vol. 29 MAY 1947 NUMBER 5 |
| | Note to Readers 129 |
| | Notes of the Month  —Labour's Choice by R.P.D. 131 |
| | More Planning and More Democracy by J.R. CAMPBELL 142 |
| | German Reparations—The Facts by QUAESTOR 146 |
| | Wallace Speaks for the Common Man by DEREK KARTUN 149 |
| | Europe Today (v) by DONALD BRUCE, M.P. 152 |
| | Imperialism and the Indian Army by NEIL STEWART 155 |
| | Book Review — The Population of the Soviet Union by DR. FRANK LORIMER: A.R. 159 |
| | |
| | |
| --- | --- |
| | |
| | Vol. 29 JUNE 1947 NUMBER 6 |
| | Notes of the Month  —Six Months of Decision by R.P.D 161 |
| | Production by GAVIN MARTIN 171 |
| | Bi-Zonal Germany by IVOR MONTAGU 175 |
| | The United States Today (i) The Attack on U.S. Labour by JAMES KLUGMANN 179 |
| | World Imperialism Today by EDVARD KARDELJ 183 |
| | Book Review - The Theory of Capitalist Development by Paul M. Sweezy: by J. WINTERNITZ 188 |
| | Correspondence 192 |
| | |
| | |
| --- | --- |
| | |
| | Vol. 29 JULY 1947 NUMBER 7 |
| | Notes of the Month  —Fruits of Margate by R.P.D 193 |
| | Labour Party Conference (i) by K. ZILLIACUS, M.P. 199 (ii) by HAROLD DAVIES, M.P. 200 |
| | Cotton Textile Industry by A. NAESMITH 201 (General Secretary of the Amalgamated Weavers' Association ) |
| | The Problem of Power by C.R. HOBSON, M.P. 203 |
| | The United States Today (ii)— The United States and World Trade by J.R. CAMPBELL 205 |
| | India by R. PALME DUTT 210 |
| | From an Engineering Shop by REG. BIRCH 219 |
| | Book Review— Class Struggles in Ancient Greece by Margaret O. Wason: G. Thomson 223 |
| | |
| | |
| --- | --- |
| | |
| | Vol. 29 AUGUST 1947 NUMBER 8 |
| | Notes of the Month  —The Grip of the Dollar by R. PAGE ARNOT 225 |
| | The Marshall "Plan" by QUAESTOR 230 |
| | Production in the Foundry by JIM GARDNER 233 (General Secretary of the Amalgamated Union of Foundry Workers ) |
| | Democracy of a New Type by EUGENE VARGA 235 |
| | The United States Today (iii)— The Negro People by BETTY WALLACE 242 |
| | Caucasus Week (ii) by J. TODD and D. N. PRITT, K.C., M.P. 245 |
| | Book Reviews — Mirror of the Present by K. Zilliacus: R. Palme Dutt 255 |
| | Shorter Notice: J.W. 256 |
| | |
| | |
| --- | --- |
| | |
| | Vol. 29 SEPTEMBER 1947 NUMBER 9 |
| | Notes of the Month  —The Government and the Crisis by R. PAGE ARNOT 225 |
| | What To Do by ARTHUR HORNER 265 |
| | Anglo-Soviet Negotiations by QUAESTOR 270 |
| | Democracy of a New Type (ii) by EUGENE VARGA 276 |
| | Malaya: Future of Rubber by NEIL STEWART 279 |
| | W.H. Thompson by R. PAGE ARNOT 284 |
| | Book Review — Thirty Years Ago by William Gallacher 286 |
| | |
| | |
| --- | --- |
| | |
| | Vol. 29 OCTOBER 1947 NUMBER 10 |
| | Notes of the Month  —Britain's Crisis and the World's by R. PAGE ARNOT 289 |
| | The Southport T.U.C. by JOHN HORNER 299 (Gen. Secretary Fire Brigades Union ) |
| | The Fight for a Wages Policy by GEORGE ALLISON 303 |
| | U.S.A. and World Situation by JAMES KLUGMANN 306 |
| | The Punjab Riots by P.C. JOSHI (Secretary Communist Party of India ) 312 |
| | Book Reviews — Looking Ahead by Harry Pollitt: Will Lowther 316 (President National Union of Mineworkers ) |
| | The Decline of the Roman Empire in the West by F. W. Walbank: J.B.S. Haldane, F.R.S. 317 |
| | There is a Spirit in Europe: M.J. Carritt 318 The British General Election of 1945 by R.B. McCallum and A. Readman: R.P.D. 319 |
| | Shorter Notices 319 |
| | Correspondence 320 (reply to Class Struggles in Ancient Greece) |
| | |
| | |
| --- | --- |
| | |
| | Vol. 29 NOVEMBER 1947 NUMBER 11 |
| | |
| | Salute to the Soviet Union from D.N. PRITT K.C. M.P. 321 |
| | Notes of the Month  —Two Camps—One World by R.P.D. 323 |
| | Democratic Planning in the Soviet Union by WAL. HANNINGTON 333 |
| | Cripps and the Alternative by J.R. CAMPBELL 337 |
| | Reshuffle to the Right by WILLIAM RUST 341 |
| | Sidney Webb by R. PALME DUTT 344 |
| | Document of the Month — The Nine-Party Conference: Resolution and Declaration 347 |
| | Review — J.V. Stalin. Sochineniya. Vol. I. 1901-7: J. Winternitz 349 A Hundred Years Ago—Letter to Marx from Engels 352 |
| | |
Vol. 29 DEDEMBER 1947 NUMBER 12

Notes of the Month  —Political Danger Signals World by R. PAGE ARNOT 323
British Trade with Eastern Europe by BEN PARKIN, M.P. 361
Social-Democracy in Europe—Left or Right? by JAMES KLUGMANN 364
Harriman and Cripps by MARGOT HEINEMANN 369
What happened in 1939 (Speech of A.Y. Vyshinsky) 374
100 Years Ago —Marx and Engels speak in London 378
Document of the Month — United Nations Resolution against Warmongers 380
Communication from J. Winternitz [On the July review of The Decline of the Roman Empire in the West] 381
Book Reviews — The Watershed by A. Calder-Marshall and Partisan Picture by Basil Davidson: Kenneth Syers 382
Life in Russia by John Lawrence: Gordon Schaffer 384

---

Archive maintained by D. Walters