On Marriage and Family | Roosevelt-Litvinov: Man to Man Talk
---
First Published: February, 1969. (No. 149)
Editors: Oleg P. Benyukh, Georgi I. Isachenko, Marina T. Zabolotskaya, Nikolai V. Zhiltsov
Publisher: Embassy of the Union of Soviet Socialist Republics in Washington, DC.
Scanned: Brian Baggins
Public Domain: Soviet History Archive 2005. This work is completely free.
This is a raw scan in PDF format. The text is not digitally recognized, instead these are just pictures of the pages in the magazine. This was done because reproducing the magazine layout in html is highly time consuming, and the drive in this phase of the project is to get a multitude of these magazines online. If you would like to help put these magazines into html format, please let us know.
---
---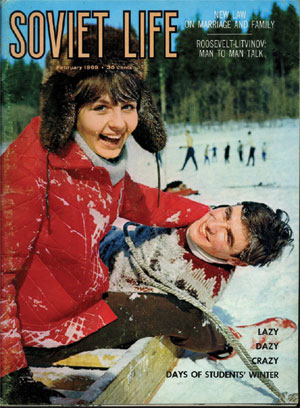 SOVIET PEOPLE
1 HOBBY? NO, SECOND PROFESSION
by Myuda Derevyankina
14 THE THREE: COMPOSER, SKIPPER, CHEMIST
16 WOULD D'ARTAGNAN RETURN?
by Leonid Likhodeyev
38 SEA DOGS RETIRED
by Marina Khachaurova
60 ... AND THE FRIEND OF THE STEPPES, THE KALMYK
by Yuri Rosenbium
ECONOMY AND SCIENCE
9 ONE LANGUAGE FOR SCIENCE
by Aksel Berg, Dmitri Armand, Yevgeni Bokarev
36 INERT OR LIFE-GIVING?
by Eleonora Gorbunova
37 VSEVOLOD STOLETOV: FROM HYPOTHESIS TO DISCOVERY
LITERATURE AND THE ARTS
11 VARDZIA
30 THE BOLSHOI THEATER, BUT IN SIBERIA
by Nafalya Lagina
42 FAME CAME LATE TO NIKO PIROSMANI
by Konsfantin Paustovsky
50 THE EARTH GROANS BEYOND THIS WALL
by Irma Kalitenko
54 SCHOOL LUNCH IN '43
by Vasili Aksyonov
SOCIAL PROBLEMS
6 NEW LAW ON MARRIAGE AND THE FAMILY
by Israel Marfkoyich and Yelena Rozanova
22 LEISURE TIME IN THE USSR AND THE USA
by Anna Pusep and Vladimir Turcherrko
INTERNATIONAL CONTACTS
24 ROOSEVELT-LITVINOV: MAN TO MAN TALK
by Zinovi Sheinis
27 LENIN AND LITVINOV: FIRST STEPS OF SOVIET DIPLOMACY
RECREATION AND SPORTS
18 STUDENTS' WINTER VACATION
48 BORIS SPASSKY: TWO-TIME BIDDER FOR WORLD CHESS CROWN
by Yevcjeni Bebchuk
62 BAD DAY FOR A WILD BOAR
by Alexander Chernonin
MISCELLANEOUS
10 COIN A CAPTION
10 LETTERS TO THE EDITOR
23 CHILDREN'S CORNER
29 HUMOR
57 QUERIES FROM READERS
58 AROUND THE COUNTRY
61 NEXT ISSUE
---