Tashkent Celebrates its 2000th Aniversary
---
First Published: August, 1983. (No. 323)
Photography: Vsevolod Tarasevick, Nabi Utarbekov, Vladimir Molgachev, Alexei Varfolomeyev and Sergei Lidov
Editorial Board: Oleg P. Benyukh, Valeri Belyakov
Publisher: Embassy of the Union of Soviet Socialist Republics in Washington, DC.
Scanned: Brian Baggins
Public Domain: Soviet History Archive 2005. This work is completely free.
This is a raw scan in PDF format. The text is not digitally recognized, instead these are just pictures of the pages in the magazine. This was done because reproducing the magazine layout in html is highly time consuming, and the drive in this phase of the project is to get a multitude of these magazines online. If you would like to help put these magazines into html format, please let us know.
---
---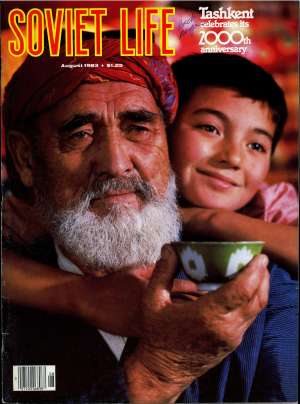 2000TH ANNIVERSARY OF TASHKENT
II WHERE THE CITY STARTED FROM
by Ergosh Nabiyev
2 TASHKENT IS 2000 YEARS OLD AND STAYS YOUNG
Interview with Sharof Rashidov
8 EARTHQUAKE AND REVIVAL
by Fyodor Ovechkin
26 BLUE SHIPS
by Utkir Abdullayev
30 THE FIRST IN CENTRAL ASIA
by Victor Rudenko
46 IN THE SKY OVER TASHKENT
by Shokhabutdrn Zainutdinov
48 EXPRESS SERVICE BELOW GROUND
by Abdullo Sobirov
55 THE RELIGIOUS CENTER OF MUSLIMS IN THE USSR
by Vladimir Mizbiritsky
COMMENTARY
19 STRENGTHENING INTERNATIONAL SECURITY
Excerpt from the book How to Avert the Threat to Europe
24 SOVIET ECONOMY NEWS, EVENTS, PROBLEMS
by Gennadi F'isarevsky
SOVIET PEOPLE
6 VICTORY DAY
by Bakhtiyar Turayev
1 2 A WEDDING IN TASHKENT
by Gao Korimov
20 ACADEMICIAN, A PEASANT'S SON
by Omar Fergani
58 VISITING A CHAIKHANA
by Solim Akhunov
60 CHOOSE, TASTE AND BUY
by Tursun Salimov
64 THE STORY OF A BOXER
by Eduard Avanesov
ECONOMY AND SCIENCE
15 ALL-ELECTRONIC TV WAS TESTED HERE IN 1928
by Bonn Alexeyev
40 HARNESSING THE SUN
INTERNATIONAL RELATIONS
38 MOVIE STARS MEET IN TASHKENT
by Boris Berman
42 LET'S SMOKE THE PIPE OF PEACE
by Makhmud Yunusov
45 TASHKENT, SEATTLE'S SISTER CITY
63 OPEN LETTER TO THE REVEREND JOSEPH T. BOULET
by Vladlen Kuznetsov
LITERATURE AND THE ARTS
51 EVERYBODY KNOWS TAMARA
57 THE HUNDRED ROLES OF SHUKUR BURKHANOV
---