T. Nagi Reddy
India Mortgaged
A Marxist-Leninist Appraisal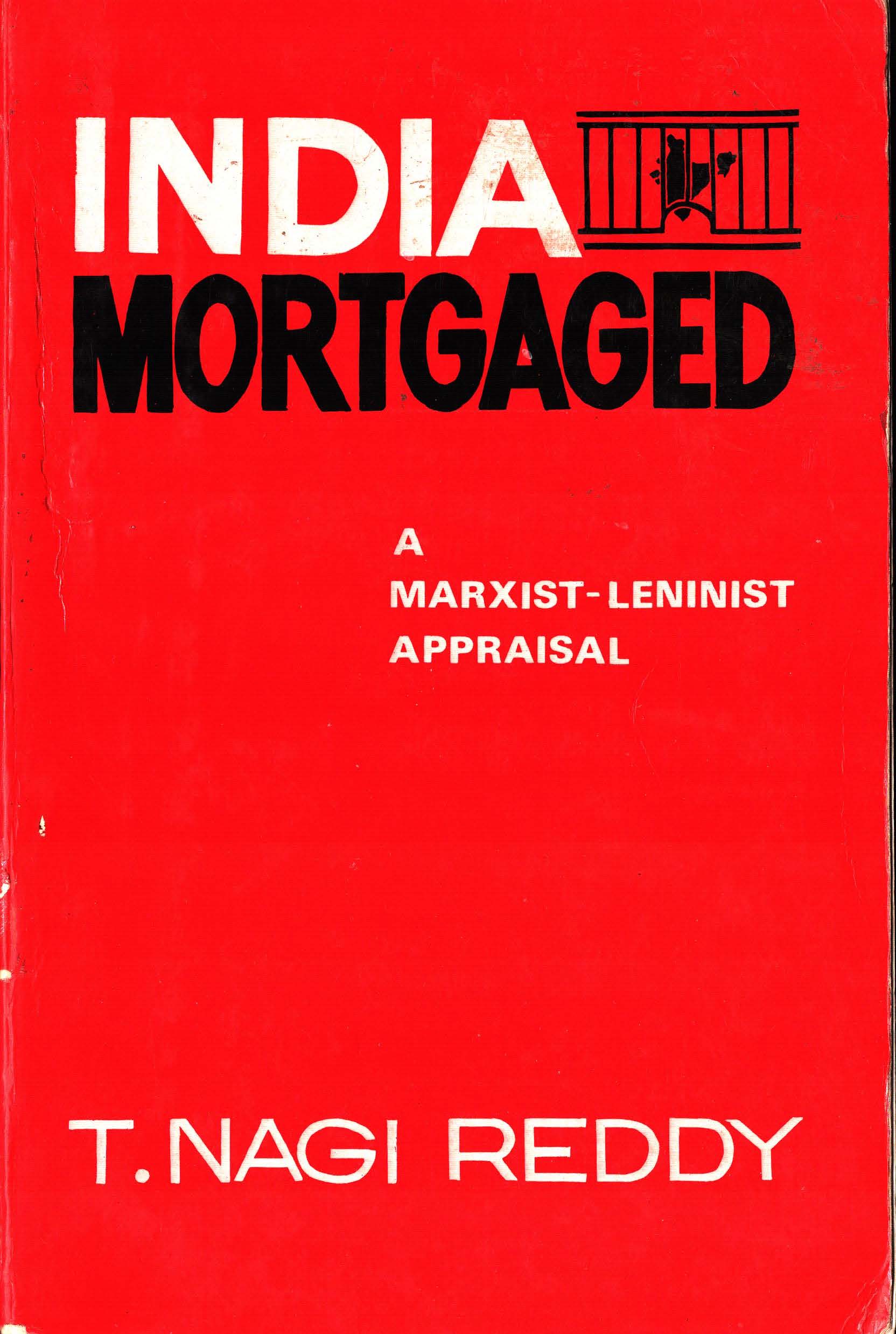 ---
Date: 1993 [originally published 1978]
Publisher: Tarimela Nagy Reddy Memorial Trust
Transcription/HTML: Paul Saba
Public Domain: Marxists Internet Archive. You may freely copy, distribute, display and perform this work; as well as make derivative and commercial works. Please credit "Marxists Internet Archive" as your source.
---
CONTENTS
FOREWORD TO THE SECOND EDITION
The Bourgeoisie and the Bourgeois Democratic Revolution
Indian Bourgeoisie's Despicable Betrayal
Compromise and Transfer of Power
Deal with Feudalism: The Princes
Nefarious Deal with Foreign Capital
The Constituent Assembly and the Constitution of India
Conclusion
II. ALL-AROUND CRISIS OF INDIAN ECONOMY
Rate of Growth of Industrial Production
Problem of Under Utilisation
Agricultural Production
A Study of Raw Material Rates
Budgetary Crisis: Inflation
Growing Deficit in Balance of Payments
Growing Unemployment
Growing Illiteracy
Appendix
III. IS INDIA ON THE WAY TO INDUSTRIALISATION?
Occupational Pattern
Production Pattern
Appendix
IV. NATIONAL PER CAPITA INCOME
Targets and Achievements of National Income
Per Capita Income
Growing Poverty
Appendix
Quantum of Assistance of India
Country-wise Aid
USA – The Biggest International Exploiter
World Bank: American Aid in Disguise
U.S. Aid and India
U.S. Aid: Agricultural Development and Agricultural Commodities
U.S. Aid: Agricultural Commodities
Appendix
VI. WESTERN AID AND INDIAN INDUSTRIALISATION
Quantum of Aid for Industrial Development
Purpose-wise Allocation of Industrial Development Loans
Foreign Finance Capital's Control of Industrial Finance Corporations
Establishment of Finance Corporation and their Importance
Industrial Finance Corporation of India
Industrial Loans for Maintenance Imports
Cost for Repayment of Foreign Loans
Appendix
Soviet Role of Foreign Private Capitals Penetration into India
Controlling Interest
Public Sector and Foreign Companies
Collaboration in All Fields
Growth of Foreign Capital
American Domination Grows
Stranglehold of Foreign Companies on Indian Corporate Sector
Loosening the Gordian's Knot
Concentration of Production of Foreign Dominated Industries
The Great Drain
Accounts Clouded
Drain of Import Requirements
Extraordinary Remuneration to Directors and Managers of Foreign Companies
Glaring Examples of Loot
Remittances of Profits Etc,, in Foreign Exchange
Outflow of Capital
Interest Burden
Profits of Foreign Companies are Higher Than Average Profits of Indian Industries
VIII. MULTI-DIMENSIONAL LOOT AND THE GREAT DRAIN
Un-Accounted Repatriation
Profits are Exceptionally High
Prices of Drugs
Profits of Drug Firms
Terms of Trade
Foreign Banks
Over-invoicing and Under-invoicing in Various Forms
Appendix
Industrial Policy Resolution
Loss to Public Sector Profit to Private Sector
Joint Sector and Foreign Private Capital
Fertilisers
Mineral Revolution and Foreign Rolls
Industrial Policy Resolutions, 1956
Defence Production in Public Sector
X. INDIAN BOURGEOISIE'S EXPANSIONIST TENDENCIES
Exciting Drama of Dangerous Consequences
XI. CHARACTER OF SOVIET AID AND ITS IMPLICATIONS
Support for Status Quo
Use of India's Cheap Labour for Profit
Is Soviet Aid 'Anti-Feudal'?
Results of Soviet Aid
XII. HOW INDIAN IS THE INDIAN BOURGEOISIE?
What is the Character of Comprador Bourgeoisie
Chinese Bourgeoisie and Indian Bourgeoisie
Chinese Characterisation of Comprador Bourgeoisie
Growing Degeneration of the Indian Bourgeoisie
Growth of the Birla House Between 1958 and 1966-67
The Growth of Tatas
XIII. FEUDALISM AND LAND REFORMS
Land Reforms Enactments
Indian Big Bourgeoisie-Landlord Government Strengthens Landlord Base
Growing Concentration of Land
The Land Ceiling Acts have Served No Purpose
Armed Landlords and their Gangs in Rajasthan
Police Rule in Ganganagar District of Rajasthan
Growing Rural Labour
Landless Labour
Average Income and Agricultural Labourer
Untouchability
Scheduled Castes and Tribes in India
The State of Harijans
Violence Stalks the Rural Scene
Desperate Fury Inevitable
XV. TRIBALS: WORST AMONG THE EXPLOITED
Revolt in Srikakulam
Conditions of the People
Communists and the Girijans
Police Repression
Democracy in Action
Kerala
Punjab
West Bengal
Raid on University Campus
Miniature Jallianwala Bagh Enacted
Horrible Conditions in Bihar Jails
Goonda Attack on Cossipore and Baranagar
Saroj Kumar Dutta
Attacks on Lawyers
Search and Destroy Operation in Howrah
Exhibition of Sadism in Tollygunj
General Pattern of Deliberate Killings
Punjab Intellectuals
Berhampore-Onssa
Andhra Pradesh
The Latest Brutal Murder
Terror in Srikakulam
Fishy
Rape and Loot
False 'Encounters' – Cold Blooded Murders
Tortures and Murders in Anantapur District
Jails are a Hell
XVII. THE SUCCESS OF THE REVOLUTION IS ASSURED
Liberation can Succeed only Under the Leadership of the Proletariat
The Question of State Power
The Question of Violent Overthrow and Capture of Power
Do Revolutionary Conditions Exist in India
The Question of law
Revolutionaries Must and Will Unite
Appendix: Com. TN's ASSEMBLY SPEECH
---