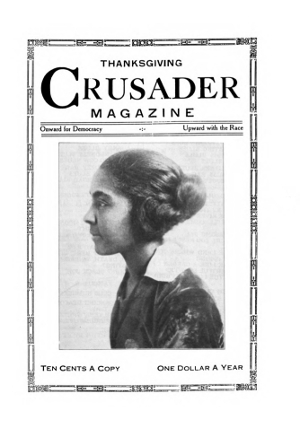 The Crusader
1918 - 1922
---
Introduction to the Garland reprint of The Crusader by Robert A. Hill
Cover Art for The Crusader scanned at high resolution.
Listing of all the issues of The Crusader from the Garland Reprint
Cartoons from The Crusader in high resolution scans.
Index for Volumes 1-3 of The Crusader
---
[Also of interest: The Messenger, the other important black American communist periodical in this period.]
The Crusader 1918 - 1922 was one of the most prominent and important black communist publications that period. It was the work of Cyril Valentine Briggs, who came to New York City in 1905 from the Leeward Islands, at the outermost eastern edge of the Caribbean. It was published initially with the support of a West Indian merchant, and later with support from the Communist Party.
In December 1918, in exchange for financial support, The Crusader became the official magazine of George Well Parker's Hamitic League of the World, a pan-African nationalist group. Parker proclaimed Africa was the cradle of civilization and that the black race was superior to all other races.
In 1919 The Crusader began to take on an anti-imperialist orientation, linking colonization and racial oppression to capitalism. In October 1919, The Crusader announced the formation of the African Blood Brotherhood (ABB), and commitment to the anti-racism of international Marxism and communism. In June 1921 , The Crusader became the official journal of the ABB, presenting communism as the solution to racial and economic inequality.
Antipathy between Cyril Briggs and Marcus ["Back to Africa"] Garvy (see the anti-Marcus Garvey cartoon in the file here presenting political "cartoons of The Crusader ") skyrocketed toward the end of 1921, resulting in prominent black communists such has Claude McKay urging the communist party withdraw its support of The Crusader as the official black communist party journal. With communist party support withdrawn, The Crusader ceased publication. Its last issue dated January - February 1922.
This periodical was characterized by its lavish use of printed photographs of black people. Especially including prominently presented photos of often hauntingly beautiful black women. Readers today, a century later, may find ironic in this black communist publication the frequent ads for hair straighteners and whitening creams.
This digital archive of The Crusader consists of scans made entirely from the 1987 Garland reprint of The Crusader. I added 120 pages missing from the scans of this publication Hathi Trust offers, and re-scanned at high resolution and quality all of the political art, all cover photos, and some of the more poorly-rendered in Google's scans text.
Marty Goodman
Riazanov Library digital archive projects
San Pablo September 2021
---
Volume 1 No. 1, September, 1918
Volume 1 No. 2, October, 1918
Volume 1 No. 3, November, 1918
Volume 1 No. 4, December, 1918
Volume 1 No. 5, January, 1919
Volume 1 No. 6, February, 1919
Volume 1 No. 7, March, 1919
Volume 1 No. 8, April, 1919
Volume 1 No. 9, May, 1919
Volume 1 No. 10, June, 1919
Volume 1 No. 11, July, 1919
Volume 1 No. 12, August, 1919

Volume 2, No. 1, September, 1919
Volume 2, No. 2, October, 1919
Volume 2, No. 3, November, 1919
Volume 2, No. 4, December, 1919
Volume 2, No. 5, January, 1920
Volume 2, No. 6, February, 1920
Volume 2, No. 7, March, 1920
Volume 2, No. 8, April, 1920
Volume 2, No. 9, May, 1920
Volume 2, No. 10, June, 1920
Volume 2, No. 11, July, 1920
Volume 2, No. 12, August, 1920

Volume 3, No. 1, September, 1920
Volume 3, No. 2, October, 1920
Volume 3, No. 3, November, 1920
Volume 3, No. 4, December, 1920
Volume 3, No. 5, January, 1921
Volume 3, No. 6, February, 1921

Volume 4, No. 1, March, 1921
Volume 4, No. 2, April, 1921
Volume 4, No. 3, May, 1921
Volume 4, No. 4, June, 1921
Volume 4, No. 5, July, 1921
Volume 4, No. 6, August, 1921

Volume 5, No. 2, October, 1921
Volume 5, No. 3, November, 1921
Volume 5, No. 4, December, 1921

Volume 6, No. 1, January-February, 1922
---
Last updated on 3 October 2021