The Workers World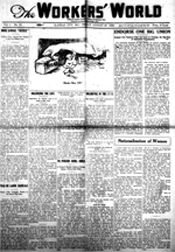 The Workers World was a weekly publication of the Socialist Party in Kansas City, Missoiuri. It was edited at varying times by both Earl Browder who later went on to become Sect'y of the Communist Party and James P. Cannon, also a leader of the Communist Party who went to found the Trotskyist movement in the U.S. While associated with the Socialist Party, the paper was firmly in that party's left-wing. It was one of the many left wing SP periodicals inspired by and firmly supporting the Russian Revolution, and (like many other such left wing SP periodicals) ended as those involved in it left the SP to organize the new Communist Party of America and Communist Labor Party, and develop new periodicals for those organizations. Because of this, these issues of The Workers World are located here in the Communist Party archive on the MIA.
Presented on this page are 34 of the total of 35 issues of Workers World 1919 that were printed, between April 4, 1919 and November 28 1919. The sources of 16 of the scans are original issues in the personal collection of Dr. Martin Goodman of the Riazanov Library digital archive project, acquired in part thanks to the kind cooperation of John Durham of Bolerium Books. These were scanned in 2011 by Marty Goodman on a broadsheet flat bed scanner at 300 dpi 8 bit gray scale.
The remaining issues were scanned (also in 2011) by Dr. Martin Goodman from a microfilm made by Columbia University in 1950 of their holdings of this publication. At present it appears that neither those original holdings nor the original master negative for that microfilm is to be found at Columbia University. Only the use-positive print remains. The microfilm contains images of 33 of the 35 issues that it seems were published.
Between Martin's collection of original issues and the Columbia microfilm, we are able to present images of all but 1 of the issues of this publication. Where we have direct scans of original paper, it of course is those which we present.
---
Table of Contents
NOTE: issue No. 11 not yet available for digitization
No. 14, July 11, 1919 [Should be issue No. 15]
No. 15, July 18, 1919 [Should be issue No. 16]
---