Kwame Nkrumah 1965
Neo-Colonialism,
the Last Stage of imperialism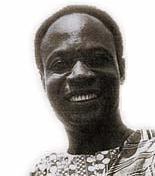 ---
Source: Kwame Nkrumah, Neo-Colonialism, The Last Stage of Imperialism;
First Published: in 1965 by Thomas Nelson & Sons, Ltd., London. Published in the USA by International Publishers Co., Inc., 1966;
Transcribed: by Dominic Tweedie.
---
1. Africa's Resources
2. Ostacles to Economic Progress
3. Imperialist Finance
4. Monopoly Capitalism and the American Dollar
5. The Truth Behind the Headlines
6. Primary Resources and Foreign Interests
7. The Oppenheimer Empire
8. Foreign Investment in South African Mining
9. Anglo American Corporation
10. The Diamond Groups
11. Mining Interests in Central Africa
12. Companies and Combines
13. The Tin, Aluminium and Nickel Giants
14. Union Miniere du Haute Katanga
15. Economic Pressure in the Congo Republic
16. Monetary Zones and Foreign Banks
17. New Industries: The Effects on Primary Producing Countries.

18. The mechanisms of neo-colonialism
---